Jenoptik to supply equipment with a value of 22 million euros to Poland for military land vehicles
Category: Defence Industry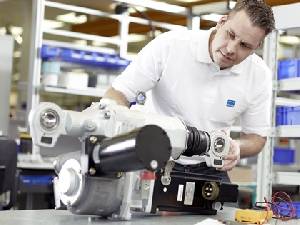 The Jenoptik Defense & Civil Systems division will deliver 126 electrical turret and weapon stabilization systems for the Leopard 2 tank.
Jenoptik is to supply 126 electric turret and weapon stabilization systems to the Polish company ZM Bumar Labedy S. A. as part of a modernization program for the Leopard 2 tank. The complete order amounts to 22 million euros and will be handled together with Polish subsuppliers. Delivery will be made between 2017 and 2020. Jenoptik is the first large subcontractor after Rheinmetall Defence within the Polish project. The contract was signed at the Polish International Defense Industry Exhibition, MSPO, in Kielce.
The all-electric stabilization systems replace the hydraulic systems used to date. They are mostly maintenance free and generate less heat inside the tank. Basically these systems adjust and stabilize the turret and weapon while the tank is in motion.
"We are pleased that as a premier provider of advanced technologies we are involved to the modernization projects", explains Michael Mertin, President and CEO of the Jenoptik Group. The order also makes a significant contribution to the further growth of this division.
Jenoptik
21.10.2016

Share...





MBDA SHOWCASES TANK DESTROYER VEHICLE WITH PGZ AT MSPO 2019
12.09.2019
Robotic Warfare Systems Will Bring Disruption to the Battlefield, Milrem Robotics' Study Finds
25.04.2019
Jenoptik Participating in the Modernization of the Leopard 2 Tank for the Bundeswehr
02.01.2018
Prominent presence in Poland for Denel
07.09.2017
Jenoptik Defense & Civil Systems
Discuss