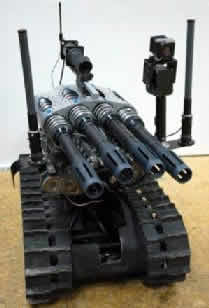 Metal Storm has successfully completed a series of live fire demonstrations held at the US Army's range facility at Picatinny Arsenal in New Jersey.
The demonstrations consisted of multiple live firings of a purpose-built version of the Metal Storm 40mm weapon system mounted on a Talon unmanned ground vehicle (UGV). During the demonstrations approximately 100 guests saw the Metal Storm equipped Talon engage a variety of targets, including simulated personnel, an infantry carrier and a bunker, with pyrotechnic rounds.
The purpose of the demonstration was to showcase the technical and operational capabilities of the Metal Storm 40mm weapon system combined with a robotic platform currently in use by the US military. The demonstrations were attended by senior scientific and technical personnel from the US Department of Defense as well as selected defense industry representatives.
The Metal Storm 40mm weapons system employed in the demonstrations was a specially designed 4 barrel array loaded with 4 rounds per barrel and utilizing significant design and engineering improvements, including improved cartridge reload and recoil management systems. It also incorporated an optical targeting system integrated with a purpose-designed mount which provided 2-axis control, stability and accuracy in aiming and operating the weapon.
Metal Storm's Chief Executive Officer, Mr. David Smith, said the demonstrations had achieved their objective in generating a positive response from key defense industry personnel. "Our system performed extremely well and we are delighted with the positive feedback and interest expressed by those attending. We already have a number of new potential opportunities under discussion as a result of the demonstrations and our technical staff has gathered very valuable data on the performance of the system. This is the outcome we were aiming for." he said.
The demonstrations were held as part of a Cooperative Research and Development Agreement (CRADA) that the US Army Armament Research, Development and Engineering Center (ARDEC) has with Metal Storm. Under the terms of this agreement, Metal Storm develops rapid fire weapons technology while ARDEC demonstrates and evaluates such technology for potential US Army use.
Personnel from the Medium Caliber Ammo Branch of ARDEC attended the live fire demonstrations to observe the functionality of the system. Under the CRADA they will be working with Metal Storm on the development of a range of munitions for use in the Metal Storm 40mm weapon system.
The live fire demonstrations at Picatinny Arsenal did not include firings from the Dragonfly DP4X unmanned aerial vehicle (UAV) as previously planned because of operational restrictions on the range which prevented in-flight live fire trials being possible. Arrangements are currently being made for in-flight test-firings and demonstrations to be held in the next few months at another location.