Metal Storm Completes Mission Payload Module Contract
Category: Defence Industry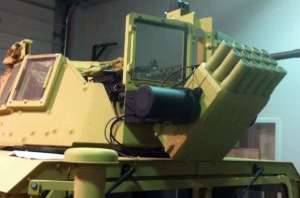 Brisbane, Australia -- Defence technology specialist Metal Storm Limited has announced that Metal Storm Incorporated (MSI) has completed all of the requirements under the Mission Payload Module Non-Lethal Weapon System (MPM-NLWS) Technology Development Phase contract. The US Government has provided written confirmation that all Contract Data Deliverables have been received and accepted.
Metal Storm has been a participant in the program since 2005 when the Marine Corps began evaluating alternative solutions for the MPM program. This latest phase of the Procurement Process required the development of a non-lethal payload with suppressive effects. This was subjected to exhaustive testing by the U.S. Marine Corps. Additionally, a representative system was developed and fitted to the Marine Corps Transparent Armoured Gun Shield (MCTAGS) to facilitate evaluation of human systems integration.
Metal Storm, Inc. President, Peter D. Faulkner stated, "Our participation in the Technology Development phase of the program allowed Metal Storm and its team members to better understand the unique requirements of the MPM program. We were able to solve many of the difficult challenges in developing a system that maximizes the incapacitating effects while at the same time, minimizing the risk of significant injury to the targeted personnel."
Metal Storm developed a version of its FireStorm that can deliver a large volume of non-lethal munitions at ranges up to 150 meters. The munition was co-developed with Safariland, (a division of BAE) which was demonstrated in a series of tests witnessed by the U.S. Marine Corps.
John Kapeles, Safariland Site Director, Operations and Engineering said "Safariland, a BAE Systems Company, is proud to partner with Metal Storm, Inc., on the MPM-NLWS development and demonstration program. Safariland's primary area of focus was development and characterization of an explosive payload design to meet the system requirements for light and sound stimuli, personnel incapacitation, and non-lethal effects. The successful payload characterization tests conducted as part of this effort demonstrated a significant improvement in the ability to meet operational requirements requiring a robust, reliable and quantifiable non-lethal human effect. The non-lethal human effects, combined with the high-volume payload delivery made possible by the Metal Storm launcher system, will provide the warfighter an increased capability to project non-lethal force accurately at extended ranges."
Mr. Faulkner said "The next step in the Marine Corps acquisition process will be the Engineering & Manufacturing Development (EMD) phase. Under EMD, the selected system will be more fully developed to a production ready state. We are anticipating the source selection process for EMD to begin in Q4 of this year."
Metal Storm
11.05.2011

Share...





Oshkosh Defense Receives Order for 248 Joint Light Tactical Vehicles
02.07.2020
KONGSBERG CONCLUDES A $ 54 MILLION CONTRACT FOR THE DELIVERY WEAPON STATIONS TO CANADIAN ARMY
05.06.2020
Rheinmetall MAN Survivor R special protected vehicle on show at GPEC 2020 international security exhibition in Frankfurt/Main
24.02.2020
Switzerland awards contract to General Dynamics European Land Systems- Mowag to deliver 100 EAGLE 6x6 reconnaissance vehicles
06.12.2019
Military Institute for Weapon and Ammunition Technology
Ultra Electronics Holdings plc, Weapon Systems
Israel Weapon Industries Ltd. - I.W.I.
Discuss