United Defense Awarded $30.9 Million Army Contract to Develop and Integrate Robotic Technologies for Armed Vehicles
Category: Robots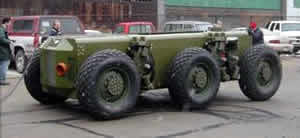 Competitive win follows FCS Armed Robotic Vehicle and Marine Corps Gladiator awards.
SANTA CLARA, CA, April 14, 2005 - United Defense Industries, Inc. (NYSE: UDI) continues to expand its role in unmanned ground vehicle programs and technologies with the award of a $30.9 million U.S. Army Tank-Automotive Research, Development and Engineering Center (TARDEC) Science and Technology Objective (STO) contract.
Under the ARV Robotics Technology (ART) STO contract – awarded by the Army's Tank-automotive and Armaments Command (TACOM) United Defense will integrate state-of-the-art unmanned platform technologies leveraged from Army and commercial developments into a representative Future Combat Systems (FCS) ARV platform, and support experimentation and testing of these systems during demonstrations. The platform demonstrators will be used by the ART program as a step toward transitioning ART technologies into the FCS ARV System Development and Demonstration effort.
"We are pleased that TARDEC selected the United Defense approach as the best solution to further unmanned ground vehicle system technologies for ARV," said Buck Tanner, Unmanned Ground Vehicle Program Manger for United Defense Ground Systems Division. "Unmanned ground vehicles will bring a new dimension to the warfighting effectiveness of units of action by providing them with a capability they do not have today. We are committed to furthering technologies that will bring these capabilities to soldiers as soon as possible."
In September 2003 United Defense was selected by the FCS Lead System Integrator to design and develop two Armed Robotic Vehicle (ARV) variants that will reduce soldier exposure in high vulnerability reconnaissance and assault missions. The ARV-RSTA variant will provide Reconnaissance, Surveillance and Target Acquisition for the FCS Units of Action, while the ARV-Assault variant will provide direct and indirect fires under remote control in support of mounted and dismounted operations.
In February, Carnegie Mellon University's National Robotics Engineering Consortium (NREC) and United Defense were selected by the U.S. Department of Defense's Joint Program Office for Robotic Systems to design, develop and produce the Gladiator tactical unmanned ground vehicles (TUGV) for the U.S. Marine Corps. Gladiator will provide the Marines with a tele-operated unmanned ground vehicle for remote combat tasks, increasing survivability by identifying and neutralizing threats and reducing risk to troops
Under the ART-STO, United Defense will focus on tactical mission behaviors to reduce soldier operational burden and interaction, semi-autonomous perception to enhance operations in unfavorable conditions, mobility systems that match manned ground vehicle operating tempos, survivability technologies that secure vehicles against certain threats, and embedded diagnostic systems specific to unmanned systems.
The program will include the delivery of an ART vehicle demonstration platform that is autonomously controlled through an advanced mobility suite, and features a suite of reconnaissance, surveillance and target acquisition (RSTA) sensors. Weapon systems, security systems, advanced tactical behaviors software, and a diagnostic/prognostic suite will be integrated in the demonstrator.
Experiments are planned for September 2006 and March 2008 to demonstrate the robust nature of the technologies. United Defense will also deliver an ART simulation and integration laboratory (SIL) at the conclusion of the second experiment.
Industry subcontractors to United Defense include General Dynamics Robotics Systems (GDRS) and Omnitech Robotics International (ORI).
Share...





CAESAR and Stryker MGS Gaining Share of The Self-Propelled Artillery Market
05.05.2007
Saft Awarded Contract for Next Generation Hybrid-Electric Military Vehicles
01.12.2006
Samsung Techwin K9 Thunder Continues to Drive The Self-Propelled Artillery Market
05.05.2006
BAE Systems Signs Co-operation Agreement With Turkish Defence Company For Wheeled Armoured Vehicles
07.10.2005
Gladiator TUGV (Robot, Unmanned Vehicle)
Discuss