Force Protection Rolls Out First Ridgback Vehicles for the British Ministry of Defence
Category: Defence Industry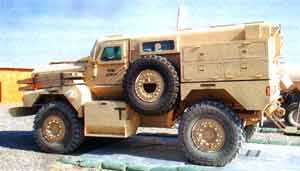 LADSON, S.C. -- Representatives of Force Protection Industries, Inc., the U.S. Government and the British Ministry of Defence gathered today as Force Protection rolled out the first five new Ridgback vehicles developed specifically for the British Ministry of Defence (MOD).
The Ridgback is comparable to Force Protection's Cougar 4x4 vehicle.
"The delivery today of the first five Ridgback vehicles represents an important step in our continuing efforts to provide critical protection for the British forces. Through the efforts of many people within Force Protection, we are able to deliver these first Ridgback vehicles one month ahead of schedule," said Michael Moody, chief executive officer.
The British Ministry of Defence has ordered 157 Ridgback vehicles for a total cost of approximately $94 million. Although the British Ministry of Defence has used the Cougar 6x6 (Mastiff) since late 2006, this is the first Ridgback delivery to the United Kingdom.
Force Protection, Inc. is a leading American designer, developer and manufacturer of life saving survivability solutions, predominantly ballistic- and blast-protected wheeled vehicles currently deployed by the U.S. military and its allies to support armed forces and security personnel in conflict zones. The Company's specialty vehicles, the Cougar, the Buffalo and the Cheetah, are designed specifically for reconnaissance, forward command and control, and urban operations and to protect their occupants from landmines, hostile fire, and improvised explosive devices (IEDs, commonly referred to as roadside bombs). The Company is one of the original developers and primary providers of vehicles for the U.S. military's Mine Resistant Ambush Protected, or MRAP, vehicle program.
Force Protection
07.08.2008

Share...





Rheinmetall MAN Survivor R special protected vehicle on show at GPEC 2020 international security exhibition in Frankfurt/Main
24.02.2020
General Dynamics Land Systems–UK showcases adaptable Foxhound vehicle at DSEI 2019
23.09.2019
The Dutch armed forces select Rheinmetall to modernize their Bergepanzer 3 Büffel
17.05.2019
BAE Systems awarded Armored Multi-Purpose Vehicle contract modifications by U.S. Army for Low-Rate Initial Production
24.02.2019
Cougar (Wheeled armoured personnel carrier)
Cougar H 4x4 (Mine protected carrier)
RG-33 MRAP II (Mine protected carrier)
Cougar MRAP (Mine protected carrier)
Caiman MRAP (Mine protected carrier)
LAZAR BVT 8808-SR MRAP (Mine protected carrier)
MRAP-VVT (Crew training simulator)
Sherpa Medium MRAP (Mine protected carrier)
Cougar (Wheeled armoured personnel carrier)
Discuss