US Marine Corps Orders 40 RG-33 6x6 Mine Resistant Ambush Protected Vehicles
Category: Contracts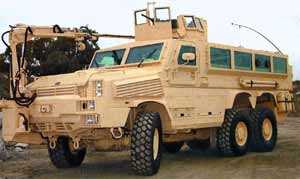 YORK, Pennsylvania -- BAE Systems has received a $43.5 million order from the U.S. Marine Corps for 40 RG33 Mine Resistant Ambush Protected (MRAP) vehicles: 36 Special Operations Command (SOCOM) variants, two RG33 MRAP Category II 6x6s, and two Category II Heavy Armored Ground Ambulances (HAGA).
The maximum contract value could total $60 million once contract negotiations are complete.
The Company will work with Letterkenny Army Depot (LEAD) to deliver the vehicles. Vehicle hull production will occur at BAE Systems' York, Pennsylvania, facility while final assembly, integration, and test will occur at the depot in Chambersburg, Pennsylvania. Deliveries are scheduled to begin in January 2009 and run through May.
"The cooperative partnership allows BAE Systems and LEAD to draw upon the strengths of both organizations to produce the highly survivable MRAP vehicles in the most efficient manner," said Matt Riddle, vice president for Wheeled Vehicle Programs at BAE Systems. "Through our combined efforts we are able to get the vehicles into the hands of those whose lives depend on them."
All three variants will be built to the MRAP Plus configuration with enhancements incorporated to improve performance and survivability. Engineering changes to improve the mobility and survivability capabilities of the SOCOM vehicles will be applied.
The BAE Systems/Letterkenny Army Depot Production Enterprise will add about 175 depot jobs resulting in a net increase of approximately $10 million to the LEAD direct annual payroll. It is estimated that the multiplier effect on the surrounding community could add as many as 80 to 90 additional jobs to the greater Chambersburg, Pennsylvania area economy.
BAE Systems manufactures three of the five MRAP variants: the Caiman, the RG31 and the RG33. The RG33 is manufactured in several configurations including the Category I 4x4, the Category II, the SOCOM variant and the HAGAs.
BAE Systems
27.08.2008

Share...





BAE Systems` CV90 increases lethality by testing SPIKE LR anti-tank guided missile
14.01.2020
U.S. Marine Corps orders more Amphibious Combat Vehicles
11.11.2019
RAVEN Countermeasure System protects vehicles from missile threats
15.10.2019
BAE Systems unveils Robotic Technology Demonstrator Vehicle at AUSA
15.10.2019
BAE Systems Land Systems Hagglunds AB
BAE SYSTEMS Advanced Technology Centre
BAE SYSTEMS Customer Solutions & Support Land & Sea
BAE SYSTEMS Operational Training
BAE SYSTEMS RO Defence Small Arms Ammunition Division
BAE Systems North America, Land & Information Systems
RG-33 MRAP II (Mine protected carrier)
Cougar MRAP (Mine protected carrier)
Caiman MRAP (Mine protected carrier)
LAZAR BVT 8808-SR MRAP (Mine protected carrier)
MRAP-VVT (Crew training simulator)
Sherpa Medium MRAP (Mine protected carrier)
Discuss