Saab was selected as supplier of the NLAW for the British army
Category: Defence Industry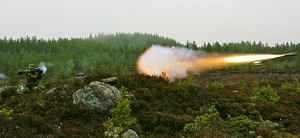 The first official next generation anti-tank weapon (NLAW) demonstration for potential customers took place recently.
The demonstration took place on a cold and damp Wednesday deep in the forests of Sweden. About fifty guests from thirteen different countries were present. Shooters from the existing customer countries, Sweden, United Kingdom and Finland, fired three missiles; two at moving targets and one at a concealed Main Battle Tank from confined space. All shots resulted in direct hits and demonstrated the system's unique hit probability. With these three missiles, a total of 62 live firings have been made, of which 61 have been successful.
Without competition
NLAW is a unique project in many ways. The deal with the United Kingdom was won in the face of extremely tough competition at the highest level. A condition of winning the contract was that British industry would be involved in the production to the greatest possible degree. Today, the project has approximately 20 sub-contractors spread across the whole United Kingdom. Final assembly takes place at Thales in Northern Ireland, while all development work takes place at Saab.
At the end of 2005, Sweden also ordered the NLAW system.
"NLAW is a unique weapons system that does not have any direct competitors. This is shown by the fact that Finland came on board as a customer in 2007, before the system was fully developed," says Michael Ekenstedt, who is programme manager for NLAW.
According to plan
It has been a difficult, and not uncomplicated, journey to bring the NLAW project safely into harbour. The date of introduction into service in the United Kingdom has had to be rescheduled a number of times but now production is under way, according to plan.
"The design phase is complete and we are meeting all the contracted milestones. The British army will get their first delivery at the beginning of November and Sweden and Finland have already had small quantities delivered for evaluation and training purposes. Deliveries for operational use to Sweden and Finland will start during 2009," says Christer Axelsson, assistant programme manager for NLAW.
Bright future
The demonstration in Karlskoga was the start of more intensive marketing for NLAW. A lot of countries have already shown considerable interest and there is a definite need for NLAW's capability. Anders Haster was responsible for the implementation of the demonstration and was very pleased with the result:
"It feels great to have really shown that we have a product that lives up to what we have been telling people for several years. We are now looking forward to starting a number of sales campaigns at the end of the year and during next year. Hopefully, several of these will also generate contracts."
Saab
14.11.2008

Share...





SAAB Receives Order For Upgrade Of German Army Vehicle Simulators
12.01.2018
SAAB Receives Order From KMW For Mobile Camouflage Systems
19.12.2017
Czech precision optical systems producer to support line-of-sight technology for BAE Systems' CV90
29.11.2017
SAAB Chosen As Sub-Contractor For The Ajax Virtual Crew Turret Trainer
14.10.2017
Saab Tech Electronics Division
Saab Training Systems Canada Limited
Saab Training Systems (UK) Ltd
Discuss