Remote-controlled weapon stations delivered to the Bundeswehr on time
Category: Defence Industry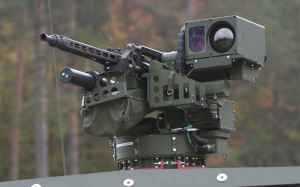 Kassel -- Krauss-Maffei Wegmann (KMW) has carried out the first partial delivery of seven light FLW 100 weapon stations to the Federal Office for Defence Technology and Procurement (BWB). The contract signed in July of this year allows for the production and delivery of 230 light (FLW 100) and 190 heavy weapon stations (FLW 200) in all.
Only four months after signature of the contract, the first weapon stations, which can be mounted any type of vehicle, have now been handed over to the Bundeswehr.
This was only possible because all participating firms, under the leadership of KMW, began advance production immediately after the selection decision at the end of 2007, at their own financial risk, in order to meet the planned delivery deadlines. With the prompt delivery of the first seven weapon stations, KMW has been able to make a valuable contribution to the security of Bundeswehr soldiers in their missions abroad.
In order to respond to the resulting increased need for protection, the Bundeswehr decided to equip its vehicles with light and heavy weapon stations of the types FLW 100 and 200 in the framework of its 'GFF' ("protected command and role-specific vehicle") procurement programme. KMW was thus able to convince the Bundeswehr as to both modular weapon stations in a comparative test, and prevailed against competing international products.
Remote-controlled weapon stations
Both the FLW 100 and the FLW 200 can be operated by remote control by the vehicle crew from within the armoured interior, using a monitor with integrated day- and night-vision devices. A further technical feature of the system is the so-called gyroscopic stabilisation, which enables an extremely precise and controlled deployment of the weapons even during high-speed movement through rugged terrain. In addition, the stations permit a rapid change in armament. The respective equipment range – from machine guns up to automatic grenade launchers – is automatically recognized, and the station adapts its ballistics accordingly.
A further advantage is that the system can be mounted on the vehicle without making roof openings, due to its modular design. This means that no moving parts are located in the interior of the vehicle and the level of protection of the vehicles is not reduced by the integration. The integrated security system of the weapon stations also takes the vehicle silhouette, the vehicle-specific arrangement of hatches, doors and body areas, into account. The weapon station will thus not fire on the vehicle itself by mistake.
KMW
17.11.2008

Share...





Discuss