BAE Systems Awarded $70 Million Contract To Finalize Artillery Development For Sweden And Norway
Category: Contracts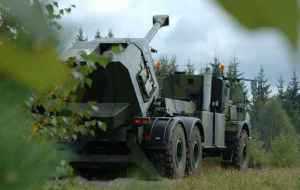 KARLSKOGA, Sweden -- BAE Systems has been awarded a $70 million contract to finalize the development of the Archer artillery system for the Swedish and Norwegian armed forces. This order consists of final development of the self propelled gun, development of ammunition handling system and modular charges. Construction of a final prototype gun is expected to be completed by September 2009.
"When combined with the Excalibur GPS-guided munition, Archer is a state-of-the-art artillery system and will provide enhanced capabilities," states Magnus Ingesson, president of BAE Systems AB. "Norway's inclusion in Archer's final development will help solidify the Nordic Battle Group's artillery capabilities."
The Archer system is based on construction equipment modified with a self loading system and crew protected cockpit. It provides the crew with the ability to move to a safe distance 90 seconds prior to firing and remain protected throughout the deployment, firing of six rounds and redeployment.
As part of the contract, both governments hold an option to purchase 24 Archer systems each, for a total of 48, in September 2009. Construction for these systems is expected to be completed by 2011.
BAE Systems
16.01.2009

Share...





BAE Systems` CV90 increases lethality by testing SPIKE LR anti-tank guided missile
14.01.2020
U.S. Marine Corps orders more Amphibious Combat Vehicles
11.11.2019
RAVEN Countermeasure System protects vehicles from missile threats
15.10.2019
BAE Systems unveils Robotic Technology Demonstrator Vehicle at AUSA
15.10.2019
BAE Systems Land Systems Hagglunds AB
BAE SYSTEMS Advanced Technology Centre
BAE SYSTEMS Customer Solutions & Support Land & Sea
BAE SYSTEMS Operational Training
BAE SYSTEMS RO Defence Small Arms Ammunition Division
BAE Systems North America, Land & Information Systems
Archer (Self-propelled howitzer)
Discuss