KMW Takes Over MAN-Mobile Bridges
Category: Defence Industry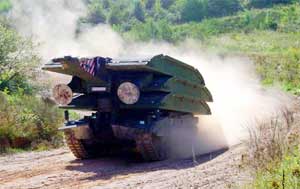 Krauss-Maffei Wegmann has acquired MAN-Mobile Bridges GmbH and has thus decisively strengthened its key position in the market for land defence systems. In Munich, last Friday, 08 April 2005, Frank Haun, member of the KMW Board of Management and its deputy chairman, signed a contract with MAN Technologie AG that provides for the transfer of MAN-Mobile Bridges to Krauss-Maffei Wegmann GmbH & Co.KG, subject to the consent of the Federal Cartel Office.
MAN-Mobile Bridges is a successful system lead contractor for military bridgelaying systems of a high technological standard and a variety of different categories and thus complements the KMW product range in a meaningful way. "The take-over marks a decisive expansion of our product range and the entry into the combat engineer market. Moreover, MAN-Mobile Bridges, with its presence on the international markets, gives us access to new markets, such as Asia", says Frank Haun.
KMW and MAN-Mobile Bridges have already successfully collaborated in the past in the field of bridge technology. The Leopard 1, for instance, served as the base vehicle for the LEGUAN armoured bridgelayer of the Belgian, Greek and Norwegian armed forces. The Leopard 2 is the base vehicle for the modular bridgelaying system of the latest generation, the PSB 2. Moreover, the Leguan system is in service on the tank versions of the U.S. M1 WOLVERINE, the Russian T-72 and the 8x8 carrier vehicle from MAN.
Share...





Multimillion-euro order from Hungary
02.10.2019
Krauss-Maffei Wegmann supports the modernization of the Hungarian Army
22.12.2018
Rheinmetall ships 200th Puma IFV to the Bundeswehr
05.06.2018
Lithuania boosts army with 88 BOXER vehicles
24.08.2016
Krauss-Maffei Wegmann GmbH & Co.KG - KMW
Wolverine M1A1/A2 (Armoured vehicle-launched bridge)
Discuss