ManTech Wins Up to $355M Two-Year Army Contract to Support MRAPs in Southwest Asia Expands prior JERRV mission to include additional vehicle types
Category: Defence Industry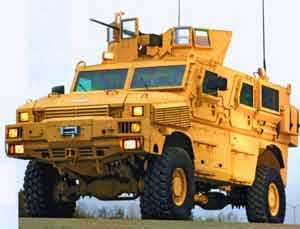 FAIRFAX, Va. -- ManTech International Corporation announced today that it has received an up to $355 million contract from the U.S. Army Program Executive Office, Combat Support and Combat Service Support, and TACOM Product Manager for Assured Mobility Systems to provide rapid repair and sustainment of mine-resistant, ambush-protected (MRAP) vehicles.
The competitively awarded contract has a one-year base, with a 12 month option period. The contract was awarded to ManTech by VSE Corporation, acting on behalf of the U.S. Army.
ManTech will provide maintenance, sustainment and logistics analysis to the RG31 and RG33 MRAPs. This contract extends current support and expands services to include maintenance and logistics for the RG33 for TACOM. This contract is requirements driven and will be heavily dependent on operational tempo in the Southwest Asia region.
"ManTech has been supporting mine detection, mine retrieval, and mine protected systems in Southwest Asia since 2003," said Robert A. Coleman, President and Chief Operating Officer of ManTech International Corporation. "We are proud to support these systems because we understand they play an important role in keeping our warfighters in Iraq and Afghanistan safe from the effects of many improvised explosive devices."
Headquartered in Fairfax, Virginia with approximately 7,900 professionals, ManTech International Corporation is a leading provider of innovative technologies and solutions for mission-critical national security programs for the Intelligence Community; the departments of Defense, State, Homeland Security and Justice; the Space Community and other U.S. federal government customers. The company operates in the United States and 40 countries.
ManTech
05.02.2009

Share...





ManTech Awarded $30 Million to Support U.S. Marine Corps' Cougar Family of Mine Resistant Ambush Protected Vehicles
30.08.2012
ManTech Awarded Contract to Continue Sustainment of U.S. MRAP Vehicles
05.06.2012
ManTech to Continue Sustainment of US Military`s MRAP FoV
04.06.2012
ManTech Awarded USD 507M to Continue Sustainment of US Military's MRAP Vehicles
13.01.2012
Discuss