BAE Systems Reseives UK Order For Additional BvS10 Vikings
Category: Contracts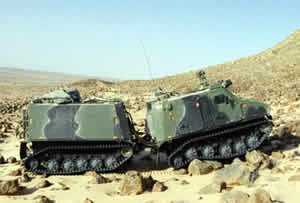 ORNSKOLDSVIK, Sweden - BAE Systems has received an additional order for the armoured all-terrain vehicle BvS10 VIKING from the British Ministry of Defence (MoD).
The contract is for nine vehicles, seven of the troop-carrying variant and two in command vehicle configuration. The vehicles are being ordered to maintain the capability in theatre.
It follows a contract from December 2008 which added mine protection to the current fleet of BvS10 VIKINGs currently in service with the British MoD. The latest vehicles will be built to the same MkI configuration build standard which includes the new mine protection kit.
"This contract recognises the performance the BvS10 VIKING delivers to the troops in theatre. It is key to us as a company to meet user needs, and the upgraded variant will meet those requirements," says Tommy Gustafsson-Rask, director of marketing and sales at BAE Systems Hagglunds.
The first vehicle in the contract is anticipated to be delivered directly from stock in February and the whole contract is expected to be delivered during the first quarter of 2009. The mine protection upgrades will be fitted following manufacture of the base vehicles.
BAE Systems
17.02.2009

Share...





BAE Systems` CV90 increases lethality by testing SPIKE LR anti-tank guided missile
14.01.2020
U.S. Marine Corps orders more Amphibious Combat Vehicles
11.11.2019
RAVEN Countermeasure System protects vehicles from missile threats
15.10.2019
BAE Systems unveils Robotic Technology Demonstrator Vehicle at AUSA
15.10.2019
BAE Systems Land Systems Hagglunds AB
BAE SYSTEMS Advanced Technology Centre
BAE SYSTEMS Customer Solutions & Support Land & Sea
BAE SYSTEMS Operational Training
BAE SYSTEMS RO Defence Small Arms Ammunition Division
BAE Systems North America, Land & Information Systems
BvS10 VIKING (Tracked armoured personnel carrier)
Discuss