Elbit Systems Awarded First Contract to Supply the Brazilian Army with Unmanned Turrets
Category: Defence Industry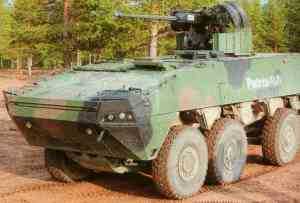 Haifa, Israel, -- Elbit Systems Ltd. announced it was awarded a contract for the supply of unmanned turrets to the Brazilian Army Ground Forces, to be installed on the 6X6 Armored Personnel Carrier (APC).
Elbit Systems was selected as a result of a competition including leading global manufacturers in the field.
The contract amount of the first phase of this program is not material to Elbit Systems, however, the overall potential of the Brazilian Army Ground Forces' multi-year program, which is anticipated to include additional unmanned turrets, is significant.
Elbit Systems' unmanned turret is a complete system, incorporating an automatic cannon up to 30mm, a coaxial machine gun 7.62 mm, a Laser Warning System (LWS), commander panoramic sights and smoke grenade launchers. In addition to the aforementioned elements, Elbit Systems' unmanned turret combines fully stabilized dual axes and an automatic target tracker.
The unmanned turret functions remotely and electrically, operated from within the crew compartment without exposure to external hazards. The system features proprietary Elbit Systems' technology and represesnt a step function advance in response to asymmetric warfare challenges. The unique design is based on extensive battlefield experience in full scale and low intensity conflicts, and attests to Elbit Systems' leadership in the field oft urret and fire control systems.
Bezhalel (Butzi) Machlis, General Manager of Elbit Systems Land and C4I - Tadiran, said: "We consider Brazil an important market and believe that this initial contract will lead to further cooperation in the future. Elbit Systems offers unique unmanned turrets solutions, a central feature in today's modern urban battlefield. Our leadership in the field is based on our systems' extensive operational experience, including under newly emerging threats and non-conventional challenges."
Elbit Systems
13.04.2009

Share...





The Transatlantic Partner for Land Defense in Europe - General Dynamics European Land Systems premiers four new offerings at EUROSATORY 2018
08.06.2018
General Dynamics European Land Systems presents a new variant of PIRANHA IFV at the HEMUS Exhibition 2018
04.06.2018
Elbit Systems of Australia Concludes Successful Delivery of Thermal Weapon Sights to ADF
14.05.2018
Australian Minister for Defence Industry Publicly Announced Elbit Systemsí Award of Additional BMS for the ADF
28.11.2017
TADIRAN Electronic Systems Ltd.
Discuss