Elbit Systems Awarded 25 Million Euros Contract To Supply Austrian Army With 12.7 mm Weapon Stations
Category: Defence Industry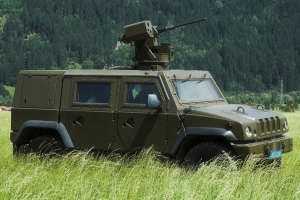 Haifa, Israel -- Elbit Systems Ltd. announced it has been awarded a contract valued at ˆ25 million to supply the Austrian Army with Elbit Systems' new 12.7mm unmanned Electrically Remote Controlled Weapon Stations. The systems will be delivered over the course of the next four years.
The contract for the Austrian Army was signed between Elbit Systems and IVECO S.p.A., a subsidiary of the Fiat Group, prime contractor for the program. The Weapon Stations provided by Elbit Systems will be integrated into IVECO Defence Vehicles' Light Multi-role Vehicles (LMV) 4X4.
Besides the day and night detection systems - Elbit Systems' weapon stations include a Multi Threat Detection System (MTDS), capable of detecting, categorizing and pinpointing Laser, Radar and RF Sources. The MTDS provides a solution to threats caused by a variety of sources, from beam rider missiles and ground designators to laser guided bombs and missiles.
The new weapon station is based on Elbit Systems' expertise and combat proven fire control systems, drive systems and electro-optic systems.
The weapon station is perfectly suited for Light Multi-role Vehicles, enhancing the vehicles' capabilities by adding both sensors and firepower, with little increase in overall percentage of vehicle weight.
Bezhalel (Butzi) Machlis, General Manager of Elbit Systems Land and C4I Tadiran, said: "We are proud to have been selected to take part in this important project for the Austrian Armed Forces. Elbit Systems' co-operation with IVECO Defence Vehicles reflects the level of recognition we have achieved with our customers and international partners. The selection of our systems constitutes a breakthrough in an emerging international market emanating from a shift in the modern battlefield."
About Elbit Systems
Elbit Systems Ltd. is an international defense electronics company engaged in a wide range of defense-related programs throughout the world. The Company, which includes Elbit Systems and its subsidiaries, operates in the areas of aerospace, land and naval systems, command, control, communications, computers, intelligence surveillance and reconnaissance ("C4ISR"), unmanned air vehicle (UAV) systems, advanced electro-optics, electro-optic space systems, EW suites, airborne warning systems, ELINT systems, data links and military communications systems and radios. The Company also focuses on the upgrading of existing military platforms and developing new technologies for defense, homeland security and commercial aviation applications.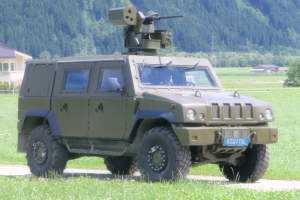 Elbit Systems Ltd.
18.05.2009

Share...





U.S. Marine Corps orders more Amphibious Combat Vehicles
11.11.2019
IVECO DEFENCE VEHICLES AWARDED CONTRACT TO DELIVER A NEW GENERATION OF MEDIUM MULTIROLE PROTECTED
24.09.2019
Iveco-Oto Melara Consortium (CIO) Signs Contract With The Italian Ministry Of Defence For 10 Centauro II Armoured Vehicles
25.07.2018
BAE Systems team wins U.S. Marine Corps' Amphibious Combat Vehicle competition
20.06.2018
Iveco - Oto Melara Consortium - CIO
IVECO S.p.A., Defence Vehicles Division
Discuss