Oshkosh Defense Submits Proposal for FMTV Program
Category: Defence Industry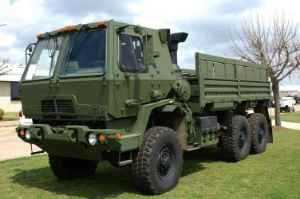 OSHKOSH, Wis. -- Oshkosh Defense, a division of Oshkosh Corporation, today submitted its proposal for the Family of Medium Tactical Vehicles (FMTV) A1P2 competitive rebuy program to the U.S. Army Tank-automotive and Armaments Command Life Cycle Management Command (TACOM LCMC).
Oshkosh Defense is a proven industry leader in the design and manufacturing of medium and heavy military vehicles, and has the expertise, production capabilities and proven experience to deliver the FMTV on time and within budget. If chosen, almost 90 percent of Oshkosh Defense suppliers for existing vehicle fleets for the military would be common with the FMTV vehicles, allowing for a seamless integration of the additional manufacturing.
"Oshkosh is confident that we have given the U.S. Army a credible, competitive and low-risk proposal for the FMTV program," said Andy Hove, Oshkosh Corporation executive vice president and president, Defense. "We already produce similar military-grade medium trucks, work with most of the key FMTV suppliers, and have proven capabilities for engineering, manufacturing and aftermarket support."
With available production capacity at its facilities, Oshkosh Defense can deliver the FMTV vehicles to the government's specification ahead of the proposed schedule. The company's robust manufacturing capabilities ensure it can fully comply with existing and proposed vehicle programs, in addition to the FMTV schedule. To meet the Army's needs, the company has proceeded with a number of pre-contract production efforts, including the design of a Long Term Armor Strategy (LTAS)-compliant cab, which will be completed prior to a contract award at no cost to the government.
Oshkosh Defense is a leading manufacturer of medium and heavy vehicles for the U.S. military. More than 10,000 Medium Tactical Vehicle Replacements (MTVR) have been produced and delivered to the Department of Defense, with many already in service in Iraq and Afghanistan. It has also produced and delivered more than 30,000 Heavy Expanded Mobility Tactical Trucks (HEMTT), Palletized Load Systems (PLS) and Heavy Equipment Transporters (HET) under Family of Heavy Tactical Vehicles (FHTV) contracts.
Oshkosh Defense is also a leader in technology innovation for military vehicles. The company's renowned TAK-4® independent suspension has undergone more than 400,000 miles of government testing and provides a 70 percent off-road profile for the MTVR. Additionally, more than 1,500 TAK-4 suspension kits are being produced for an urgent need to retrofit current MRAP (Mine Resistant Ambush Protected) vehicles to improve their off-road capabilities.
The company is also a pioneer in fully autonomous vehicle technology, having developed the TerraMax™ autonomous vehicle for three DARPA Grand Challenge events and most recently the R-MTVR (Roboticized MTVR) vehicle in conjunction with the Naval Warfare Surface Center. Oshkosh's Command Zone™ electronics system provides on-board vehicle diagnostic/prognostic capabilities, and the company's ProPulse® diesel- and hybrid-electric drive technologies, used on the advanced HEMTT A3 and MTVR, are proven power and "green" energy enhancements now available to the tactical vehicle fleet.
About Oshkosh Defense
Oshkosh Defense, a division of Oshkosh Corporation, is an industry-leading global designer and manufacturer of tactical military trucks and armored wheeled vehicles, delivering a full product line of conventional and hybrid vehicles, advanced armor options, proprietary suspensions and vehicles with payloads that can exceed 70 tons. Oshkosh Defense provides a global service and supply network including full life-cycle support and remanufacturing, and its vehicles are recognized the world over for superior performance, reliability and protection. For more information, visit www.oshkoshdefense.com.
About Oshkosh Corporation
Oshkosh Corporation is a leading designer, manufacturer and marketer of a broad range of specialty access equipment, commercial, fire & emergency and military vehicles and vehicle bodies. Oshkosh Corp. manufactures, distributes and services products under the brands of Oshkosh®, JLG®, Pierce®, McNeilus®, Medtec®, Jerr-Dan®, BAI®, Oshkosh Specialty Vehicles, Frontline™, SMIT™, Geesink™, Norba™, Kiggen™, CON-E-CO®, London® and IMT®. Oshkosh products are valued worldwide in businesses where high quality, superior performance, rugged reliability and long-term value are paramount. For more information, log on to www.oshkoshcorporation.com.
Oshkosh Defense
28.05.2009

Share...





Oshkosh Defense Receives Order for 248 Joint Light Tactical Vehicles
02.07.2020
Oshkosh Defense Receives $407.3 Million Order for Joint Light Tactical Vehicles
24.02.2020
Oshkosh Defense Exhibits JLTV Firepower at IDEX 2019
24.02.2019
Oshkosh FMTV A2 Makes Debut at Ausa 2018, Multiple JLTVS Command the Floor
14.10.2018
TerraMax (Robot, Unmanned Vehicle)
M-ATV Terramax (Robot, Unmanned Vehicle)
Discuss