Ukraine to Receive a New MBT
Category: Defence Industry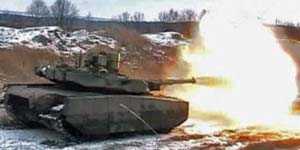 The Ukrainian Ministry of Defence has put into service the enhanced version of the Oplot main battle tank developed by the Kharkiv Morozov Machine Building Design Bureau (KMDB).
The decision was taken on May 28, 2009 after the tank had undergone in 2008-2009 extensive army-conducted trials of its firing, mobility, protection capabilities and other characteristics of the tank.
The upgraded Oplot MBT differs from the basic Oplot version in having a commander's combined panoramic sight with independent day and thermal channels, which make it possible to accurately fire the remote-controlled anti-aircraft machine gun at air targets at elevation angles of up to +60∞; separate (independent from the gunner) thermal imager and laser range-finder for the tank commander; new-generation Nozh-2 built-in explosive reactive armour array, which is capable of defeating tandem-warhead high-explosive anti-tank ammunition; new radio equipment; complex movement control system, which provides automatic gear shifting and smooth turning during tank movement; upgraded digital instrumentation panel for the tank driver; improved driver's steering wheel; more environment-friendly 1200 hp 6TD-2E diesel engine; more powerful auxiliary power unit (10 kW rather than the previous 8 kW).
The new tank is planned to enter production at the Malyshev Plant, which is now involved in upgrading T-64 MBTs for the Ukrainian Army to the BM Bulat configuration.
About KMDB:
The Kharkiv Morozov Machine Building Design Bureau (KMDB) is a state-owned enterprise, which is now Ukraine's leading design authority for armoured fighting vehicles and used to play a key role in the development of armoured tracked vehicles in the former Soviet Union.
The contemporary activities of the KMDB are distinguished by three main factors:
the ability to offer customers a wide range of armoured vehicles and other products for both military and civil use, as well as obsolete vehicle upgrade packages
the provision of equipment closely tailored to customer's individual requirements
the availability of long-term support for the end user
Morozov KMDB
03.06.2009

Share...





Robotic Warfare Systems Will Bring Disruption to the Battlefield, Milrem RoboticsТ Study Finds
25.04.2019
Problems of Russian Vacuum APFSDS-T projectile
25.01.2019
Bumar Labedy represents the PT-17 MBT on the MSPO 2017
07.09.2017
AM General Secures Additional $57 M In HMMWV Vehicle And Parts Sales
01.03.2016
Ministry of Defence of Ukraine
Central office on military and technical cooperation of MoD of Ukraine
Kharkiv Morozov Machine Building Design Bureau - KMDB
SLOVSEL s.r.o. Ukraine representative
PARALLAKS Ukraine-Russia Joint Scientific Industrial Enterprise
Discuss