BAE Systems Acquires South African Designed Iguana Light Armoured Vehicle
Category: Defence Industry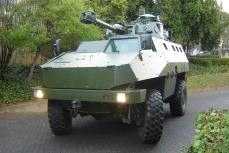 BENONI, South Africa -- BAE Systems has acquired the South African designed and developed "Iguana" light armoured vehicle and will rebrand it as RG34. The vehicle will be marketed to military, peace-keeping and security authorities globally.
Iguana was developed by IADSA, under contract from Sabiex in Belgium. BAE Systems acquired the intellectual property from Sabiex under an agreement for an undisclosed amount, signed earlier this week. The acquisition of the armoured vehicle is consistent with the company's strategy to developing its South African market capabilities.
BAE Systems will continue to develop the RG34 to further enhance its operational versatility and appeal. "Growing our business organically and through acquisitions is a vital strategy for us. Acquiring a mature, light armoured vehicle such as the RG34 to complement our product range, is an important step that will provide additional growth opportunities for the South African business," said Johan Steyn, MD BAE Systems' Land Systems South Africa business.
"We acquired the vehicle and are rebranding it as the RG34 because it enables us to expand our range of successful and world-acclaimed South African designed and built RG vehicles," explained Steyn.
BAE Systems will display the RG34 at the DefenceWeb Peacekeeping Conference, to be held 24-25 June 2009 at Gallagher Estates, South Africa.
One of the RG34's unique features is its specially designed, multi-link hydro-pneumatic suspension, which is mounted on a very rigid structure. This provides the vehicle with excellent road performance, a small turning circle and comfortable clearance over humps.
Like most of the other members of the RG family of vehicles, the RG34 is mine-resistant, having undergone extensive mine-blast tests and verifications.
The vehicle is suitable for multi-purpose light operations such as reconnaissance, patrol, command and control and specialist support (eg. ambulance), light armour combat (weapon platforms and Armoured Personnel Carriers) and security.
BAE Systems Land Systems South Africa's recent export success with its RG products has established the Benoni-based company as one of the world's leading supplier of mine-resistant and armour proof vehicles. Its products are in service with numerous military, peace-keeping, police and public security authorities across the globe.
About BAE Systems
BAE Systems is the premier global defence, security and aerospace company delivering a full range of products and services for air, land and naval forces, as well as advanced electronics, security, information technology solutions and customer support services. With approximately 105,000 employees worldwide, BAE Systems' sales exceeded £18.5 billion (US $34.4 billion) in 2008.
BAE Systems
30.06.2009

Share...





BAE Systems` CV90 increases lethality by testing SPIKE LR anti-tank guided missile
14.01.2020
U.S. Marine Corps orders more Amphibious Combat Vehicles
11.11.2019
RAVEN Countermeasure System protects vehicles from missile threats
15.10.2019
BAE Systems unveils Robotic Technology Demonstrator Vehicle at AUSA
15.10.2019
BAE Systems Land Systems Hagglunds AB
BAE SYSTEMS Advanced Technology Centre
BAE SYSTEMS Customer Solutions & Support Land & Sea
BAE SYSTEMS Operational Training
BAE SYSTEMS RO Defence Small Arms Ammunition Division
BAE Systems North America, Land & Information Systems
Industrial & Automotive Design SA - IADSA
RG-34 Iguana (Wheeled armoured personnel carrier)
IGUANA C (Robot, Unmanned Vehicle)
IGUANA E (Robot, Unmanned Vehicle)
Discuss