Billion EURO-contract for PUMA IFV
Category: Contracts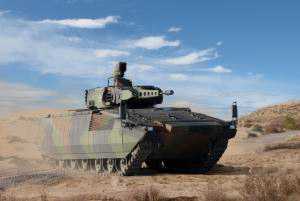 Munich -- Krauss-Maffei Wegmann (KMW) has received the largest single order in its recent history with a commission for series production of the Puma Infantry Fighting Vehicle (IFV).
PSM GmbH (Project System and Management), a joint venture in which KMW and Rheinmetall AG of Düsseldorf each hold a 50% stake, was awarded a contract by the Federal German Defence Technology and Procurement Agency (BWB) for the delivery of 405 newly developed combat vehicles. The total contract value is approximately EUR 3.1 billion. The delivery of the IFVs to the German Bundeswehr will start 2010.
The Budget as well as the Defence Committee of the German Parliament (Bundestag) have previously given the green light for the start of what is currently the largest European armaments project for land forces.
The PUMA contract is of key significance both for the Bundeswehr and the industry. It sets unique technical standards and will ensure that decisive system skills are retained in Germany, which are vital for maintaining our international competitiveness, said Frank Haun, CEO of KMW, on signing the contract.
Puma sets new standards - best possible protection for crew
The Puma is the most important modernisation project in the Bundeswehr's armaments procurement programme. It offers its occupants until now unequalled protection against mines, anti-tank weapons and improvised explosive devices commonly encountered in modern conflict areas. Its air portability, its mobility in difficult terrain and its scalability all go to make the Puma a vehicle that will take on important tasks in international conflict management while providing its occupants with the best possible degree of protection. It is also without equal in terms of endurance and firepower. The menless turret design developed by KMW sets new standards, as does a decoupled running gear that is completely isolated from the vehicle bodypan, which means that even at high speeds noise and vibrations inside the vehicle can be reduced in comparison with existing IFVs by around 90 percent.
More than 30 years after the Marder IFV entered service with the Bundeswehr, the Puma, with its extended scope of performance, establishes a completely new vehicle category. In international comparison it is taking a leading position among armoured combat vehicles.
In September 2002, the German Parliament gave the go-ahead for the new IFV by issuing the development order. It was decided to procure five pre-production series vehicles with a value of around EUR 350 million at the end of 2004. These preseries vehicles are now in service with the Bundeswehr for trials and optimisation having successfully completed numerous tests in March 2009.
KMW
06.07.2009

Share...





Rheinmetall MAN Survivor R special protected vehicle on show at GPEC 2020 international security exhibition in Frankfurt/Main
24.02.2020
Rheinmetall books ˆ110 million-contract to extend the service life of the Marder infantry fighting vehicle for the Bundeswehr
21.01.2020
Rheinmetall to Feature Next Generation 130mm Tank Gun at AUSA Global
04.11.2019
Rheinmetall Presents Next Gen "Wiesel Wingman" solution for Robotic Combat Vehicle – Light at AUSA 2019
04.11.2019
Krauss-Maffei Wegmann GmbH & Co.KG - KMW
Rheinmetall MAN Military Vehicles GmbH - RMMV
Rheinmetall Verseidag Ballistic Protection GmbH
Rheinmetall Soldier Electronics GmbH
Rheinmetall AG, Representative Office Abu Dhabi
Rheinmetall Waffe Munition GmbH
Rheinmetall Defence Electronics GmbH
Rheinmetall Waffe Munition Arges GmbH
American Rheinmetall Munitions, Inc. - ARM
Rheinmetall Denel Munition (Pty) Ltd - RDM
Puma 4x4 (Reconnaissance Vehicle)
Puma 6x6 (Wheeled armoured personnel carrier)
BWP-1M Puma (Infantry fighting vehicle)
Puma (Infantry fighting vehicle)
Puma M26 (Mine protected carrier)
Puma M36 (Mine protected carrier)
Discuss