Renault Trucks Defense signs contract with Globecomm Systems Inc. for 17 Sherpa Carrier vehicles
Category: Contracts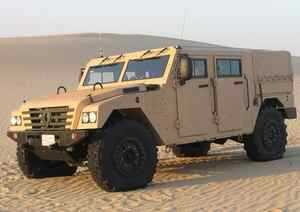 Renault Trucks Defense has just signed a contract with the American company Globecomm Systems Inc.
(GSI) for 17 vehicles Sherpa Carrier. These Sherpa Carrier were retained by GSI as carriers of tactical communications stations and will be qualified by US Army then delivered to NATO for the equipment of the Battalions Signal.
The 17 Sherpa Carrier will be assembled on the factory of production of the military vehicles (CPVM) of Renault Trucks Defense in Limoges during the first quarter 2010.
Following the recent success of the Sherpa Carrier with Namsa in 2007 and 2008, with Thales Alenia Space in 2009 (Syracuse III program) and NATO with the patrol armoured version, the Sherpa family signs its first success in United States.
Renault Trucks Defense
27.08.2009

Share...





Nexter and Texelis win the lightweight VBMR contract
13.02.2018
RENAULT TRUCKS Defense offers a new line of vehicles to internal security forces
22.11.2017
First Parade On The Champs-Elysees For The Armysís Future Connected Armorsd Vehicle
25.07.2017
319 GRIFFON and 20 JAGUAR vehicles ordered from Nexter, Renault Trucks Defense and Thales by the DGA as part of the SCORPION program
25.04.2017
Renault Vehicles Industriels, Defence Direction
Sherpa 3 Special Forces (Tactical vehicle)
Sherpa Light (Tactical vehicle)
Sherpa Medium MRAP (Mine protected carrier)
Sherpa APC XL (Wheeled armoured personnel carrier)
Sherpa SF Light/PLFS (Tactical vehicle)
Sherpa/Hawkeye 105 (Self-propelled howitzer)
Discuss