BAE Systems Receives £24M UK Order For New BvS10 Viking
Category: Contracts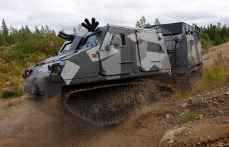 ORNSKOLDSVIK, Sweden -- BAE Systems has been awarded a contract by the UK Ministry of Defence (MoD) for an improved version of its go-anywhere BvS10 Viking armoured vehicle.
The company will deliver 24 of the vehicles, known as the BvS10 Viking Mark II, to the MoD in early 2010 so that they can be deployed to Afghanistan in the spring of 2010.The contract, worth up to £24m, includes fitting a range of urgent operational requirement modifications for service in Afghanistan. Twenty-two of the vehicles will be the troop-carrying variant and two will be in command vehicle configuration.
Lessons learned from operations in Afghanistan have resulted in several improvements including levels of protection, a larger and more powerful engine, and a bigger alternator which gives more electrical power. The steering unit has also been improved along with uprated suspension and brakes. The Mk II still retains the same load-carrying capacity as the original vehicle. The modifications are based on experience gained from more than 25 years of articulated vehicle design and production in Ornskoldsvik.
The UK MoD has already bought 166 Vikings. Approximately 50 vehicles have been used in Afghanistan by the Royal Marines and other units, where their flexibility and mobility are much appreciated.
The BvS10 MkII is also a prime contender for the French VHM requirement for 129 vehicles. A contract in France is expected to be announced at the end of the year.
BAE Systems
01.10.2009

Share...





BAE Systems` CV90 increases lethality by testing SPIKE LR anti-tank guided missile
14.01.2020
U.S. Marine Corps orders more Amphibious Combat Vehicles
11.11.2019
RAVEN Countermeasure System protects vehicles from missile threats
15.10.2019
BAE Systems unveils Robotic Technology Demonstrator Vehicle at AUSA
15.10.2019
BAE Systems Land Systems Hagglunds AB
BAE SYSTEMS Advanced Technology Centre
BAE SYSTEMS Customer Solutions & Support Land & Sea
BAE SYSTEMS Operational Training
BAE SYSTEMS RO Defence Small Arms Ammunition Division
BAE Systems North America, Land & Information Systems
BvS10 VIKING (Tracked armoured personnel carrier)
Discuss