Rheinmetall takes up a stake in high-tech AIM Infrarot-Module and buys Austrian medium-calibre specialist Arges
Category: Defence Industry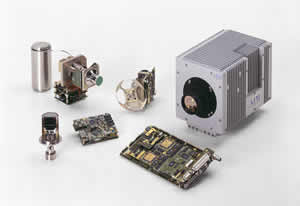 The Rheinmetall Group continues to pursue its strategy of profitable growth through carefully targeted acquisitions.
By taking up a share in AIM Infrarot-Module GmbH of Heilbronn, Germany, which will in future be run as a joint venture with previous part-owner Diehl, as well as by taking over medium-calibre specialist Arges m.b.H. of Schwanenstadt, Austria, Rheinmetall has taken a further step in its strategy of internationalization and rounding out its portfolio of products, bolstering its status as one of the world's leading suppliers of systems for ground forces. Both acquisitions still require approval from the competition authorities.
Bremen-based Rheinmetall Defence Electronics GmbH's purchase of a 50% stake in AIM Infrarot-Module GmbH, which was previously held by EHG Elektroholding GmbH (a component of DaimlerChrysler AG), expands Rheinmetall's spectrum of expertise in this highly specialized high-tech segment. The Diehl Group's BGT Defence GmbH & Co. KG (a unit of Diehl Stiftung & Co.) will continue to hold a 50% interest in the company.
AIM is one of the world's most important manufacturers of infrared sensors. In the field of high-performance infrared sensors, the company enjoys a leading position in the global market, supplying (among other customers) both Rheinmetall and Diehl. With a steadily growing market volume, AIM's 300-strong workforce generated sales in 2004 of approximately Euros 47 million. The company has also successfully marketed its products in the United States, a difficult market for European companies to penetrate.
Diehl and Rheinmetall, who cooperate successfully in several fields, see this venture as another important contribution to consolidating Germany's defence technology industry. In this way, high-value defence sector resources will continue in future to remain in German hands.
The takeover of Arges m.b.H. places Rheinmetall on the cutting edge of the accelerating global market for medium-calibre products. The manufacturer of a highly advanced family of 40mm ammunition, Arges is excellently placed to meet the future needs of NATO armed forces.
Owing to ongoing military procurement programmes, the market for medium-calibre ammunition and accessories is very robust. Especially in the United States, the company sees strong potential for increased sales.
Rheinmetall DeTec AG
30.05.2005

Share...





Strategic Alliance between Denel and Nitrochemie: Bundling of resources and platforms to strengthen international business ties
17.03.2005
Discuss