BAE Systems – Navistar Defense Team Successfully Completes Critical Design Review For Joint Light Tactical Vehicle Program
Category: Defence Industry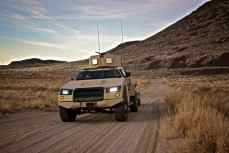 ARLINGTON, Virginia –- BAE Systems, through its US Combat Systems line of business, and teammate Navistar Defense, LLC have successfully completed the critical design review (CDR) for the U.S. multi-service Joint Light Tactical Vehicle (JLTV) program.
The CDR was completed as part of BAE Systems' 27-month JLTV Technology Development (TD) contract received in October 2008. The CDR marks the completion of the design process and the start of vehicle integration, assembly, test and checkout (IAT&C) activities to deliver test vehicles to the government by May 2010.
"This review demonstrates the BAE Systems-Navistar JLTV design is mature and balances program payload, protection and performance requirements," said Mark Signorelli, vice president and general manager of New Vehicles & Amphibious Systems for BAE Systems. "We are pleased that our design – built around the needs of the Warfighter – passed this significant milestone and we are looking forward to moving into the test and evaluation portion of JLTV's TD phase."
"Completing this review is a big event for the BAE Systems-Navistar team," said Kevin Thomas, director, new product, Navistar Defense. "As we head into the next portion of the TD phase, we will continue to enhance our offering to ensure our customer receives the best vehicle possible."
The BAE Systems-Navistar team has developed two JLTV prototypes for internal testing that have provided valuable information being used in the CDR. The company is incorporating this information to put forward the best possible offering that meets program requirements. The JLTV design also incorporates lessons learned from the U.S. Department of Defense's Mine Resistant Ambush Protected (MRAP) vehicle program and features the latest in lightweight, advanced armor and a V-shaped hull design to provide unmatched crew protection.
The team builds off the two companies' current leadership in armored and tactical vehicle development and support. Combined, the BAE Systems-Navistar team maximizes JLTV program value through proven capabilities, lean manufacturing and extensive worldwide logistics support. The team also includes Arvin Meritor, which is a leading designer and manufacturer of automotive advanced mobility systems and is the largest axle supplier to the U.S. military.
The BAE Systems-Navistar team draws on top talent from across the country. Sites participating in the development include: York, Pennsylvania; Ontario, San Diego and Santa Clara, California; Dearborn Heights, Sterling Heights and Troy, Michigan; Minneapolis, Minnesota; Johnson City, New York; Austin, Texas; Nashua, Hew Hampshire; Reston, Virginia; Melrose Park and Warrenville, Illinois; Fort Wayne, Indiana; West Point, Mississippi; Huntsville, Alabama; and Laurinberg and Aiken, South Carolina.
Navistar
23.11.2009

Share...





Oshkosh Defense Receives Order for 248 Joint Light Tactical Vehicles
02.07.2020
Oshkosh Defense Receives $407.3 Million Order for Joint Light Tactical Vehicles
24.02.2020
BAE Systems` CV90 increases lethality by testing SPIKE LR anti-tank guided missile
14.01.2020
U.S. Marine Corps orders more Amphibious Combat Vehicles
11.11.2019
BAE Systems Land Systems Hagglunds AB
BAE SYSTEMS Advanced Technology Centre
BAE SYSTEMS Customer Solutions & Support Land & Sea
BAE SYSTEMS Operational Training
BAE SYSTEMS RO Defence Small Arms Ammunition Division
BAE Systems North America, Land & Information Systems
L-ATV/JLTV (Mine protected carrier)
Discuss