Elbit Systems Will Showcase A Broad Array Of Capabilities Demonstrating Full System Interoperability At DEFEXPO 2010
Category: Exhibitions
The interoperability will be demonstrated via a multimedia presentation depicting an operational scenario in which Elbit Systems' communications, UAS, observation, reconnaissance and target designation solutions interact and play integral roles.
Elbit Systems will be presenting at the upcoming DEFEXPO 2010 (booth18.17 G, Israel Pavilion, Hall 18, ground floor) a broad array of capabilities demonstrating full system interoperability, which will be demonstrated via a multimedia presentation.
The presentation, "Networking in Action" will feature real life combat situations and demonstrate how the systems' interoperability, in offensive operations on enemy territory, enables achievement of crucial objectives. The presentation will allow viewers to experience dynamic combat experiences and missions with dramatic special effects replicating how the systems work in fully realistic views. Like previous Elbit Systems' presentations which have won prestigious international awards for their innovative approach, this one promises to be just as memorable and exciting.
The following systems will be featured in the multimedia presentation: Skylark® I-LE
This new model Skylark® unmanned aircraft system is based on the vast experience accumulated by Skylark® I in thousands of hours in operational flight in various war zones (Iraq and Afghanistan). In addition to major improvements implemented, based on extensive operational experience, Skylark® I-LE has been upgraded to offer longer endurance of up to three hours and enhanced robustness, two crucial features that ensure overall improved operational performance.
In December 2008 the Israeli Defence Ministry selected Elbit Systems to equip the IDF battalion-level with the Skylark® I-LE for all Ground Forces, including training and logistics support.
Skylark® I-LE will be presented in real-size in the Elbit Systems booth.
_BRO@DNET_Wireless Point to Multi Point broadband WiMAX - based communications system
This complete turnkey, network based communications system expands the concept of "Network-Centric Warfare" (NCW) solutions. Based on wireless broadband WiMAX technology to deliver long range, high-capacity broadband IP based data, video and voice telecommunications, the Bro@dnet system enables all combat units and commands to use a single Internet network that includes all battlefield information. Israel's Ministry of Defence selected the Bro@dnet system solution for all the branches of the Israel Defence Forces.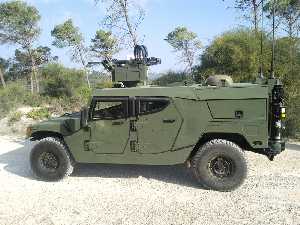 ELSAT2000 - Tactical, Full Military Standardized Satellite Communication on-the-Move (SOTM) Solution
ELSAT2000 is the first tactical, full military standardized satellite communication on-the-move (SOTM) solution, allowing low visibility profile and high data rate broadband capabilities. Elbit Systems developed a low profile SOTM antenna that provides broadband communication anywhere, anytime, supported by a unique modem technology for the SOTM communication.
ELSAT2000 will be presented in real-size in the Elbit Systems booth. TMR - Tactical Multimedia Router
A military grade, triple-play secured IP routing solution for mobile & deployed command posts and armored command vehicles, TMR is designed to disseminate voice, data and video over narrowband and broadband Mobile Ad-hoc Networks (MANET).
TMR will be presented in real-size in the Elbit Systems booth. SDR-7200 - Software Defined Radio
SDR-7200 enables the reception and transmission of live video feeds via simultaneous voice and data operation, on a single network of only 25Khz bandwidth at VHF frequency band with data transfer rates of up to 115.2 Kbps.
SDR-7200 allows true command on move with data communication of several Mb/s across various band widths.
SDR-7200 will be presented in real-size in the Elbit Systems booth. MaXess® - Elbit Systems' advanced broadband Military Wireless LAN supporting live video transmission and reception, MaXess® is based on advanced ad-hoc networking protocols, enabling the land warrior to efficiently close the sensor to shooter loop. VIC-500 Digital Intercom for tanks and other military vehicles is a digital wireless intercom system that links the on-board crew members among themselves as well as with the external world. With this system, each crew member can dismount the vehicle and move on foot unencumbered to a distances of up to 800 meters from the vehicle, while remaining in touch with all of the other mounted or dismounted crew members as well as with other forces and radio stations. The VIC-500's unique full-duplex conference communicating capability allows two crew members to speak simultaneously, while an unlimited number of personnel listen in, improving coordination and reducing operational errors.
VIC-500 will be presented in real-size in the Elbit Systems booth. DASH - Display and Sight Helmet System
DASH enables pilots to aim their weapons simply by looking at the target. DASH measures the pilot's Line-Of-Sights (LOS) relative to the aircraft, and transfers its information to other aircraft systems. Aircraft, sensors, avionics and weapons are thus enslaved to the target. DASH is adaptable to any fighter/attack aircraft and will accommodate advanced missiles and smart weapon lock-on envelopes.
Night flight capabilities are provided with the new DASH inherent dual visor capability and the DASH-Night helmet which benefits from all DASH features even in harsh weather conditions, and receives all flight information, targets and data for true 24/7operation. There are over 1000 helmets and 750 systems operational on 4 continents and onboard numerous different platforms. PLDR II - Portable Lightweight Designator / Rangefinder
The PLDR-II system is a lightweight, man-portable, cutting edge laser designation and targeting system that permits war-fighters to rapidly bring effective fire to bear on hostile targets.
PLDR II will be presented in real-size in the Elbit Systems booth. CORAL-LS - Hand-held 3-5 µm FPA Thermal Imaging Camera, based on the proven CORAL, the CORAL-LS is a Thermal Imaging Camera with integral 1.06µm imaging capability, incorporating a See Spot Camera. Lightweight, compact and equipped with a continuous zoom, the camera is suitable for close air support and forward observers, night sight laser designator units and ground.
CORAL-LS will be presented in real-size in the Elbit Systems booth.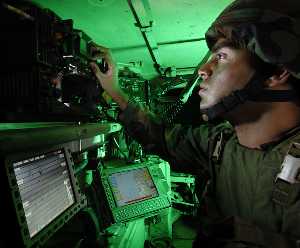 The following will be demonstrated in the Elbit Systems booth: Dominator® Integrated Infantry Combat System - Detects, Delivers,
Decides, Disseminates.
Dominator® empowers infantry units with full situational awareness, networking them into integrated information systems. When using Dominator® every soldier is a sensor and platform. Land warriors can send and receive information in real time, view up-to-the-minute situation pictures (terrain, enemy and own forces) on personal displays as well as live video from different sensors, and transmit images and positions back to command posts and headquarters.
Some of the Dominator® systems for the infantry soldier will be presented in real-size in the Elbit Systems booth. CORAL-CR - Hand-held 3-5 µm FPA Thermal Imaging Camera with continuous optical zoom and the addition of an integral digital compass, GPS receiver and a laser rangefinder, CORAL-CR's light weight, ruggedized construction and excellent picture quality are well suited for security and perimeter defence target acquisition missions. CORAL CR can also function as a night sight for medium range weapon systems or night binocular for light patrol boats and MBT/AFV commanders.
CORAL–CR will be presented in real-size in the Elbit Systems booth. LILY is a new family of lightweight Thermal Imaging Weapon Sights (TWS) designed for use by individual infantry soldiers, which provide significant advantages for operations in total darkness and in even the most difficult environmental conditions.
LILY will be presented in real-size in the Elbit Systems booth.
The following systems and solutions for Armored Fighting Vehicles (AFVs) will be highlighted at the Company booth: Full Gun Electronic Suite for Artillery (GES)
GES is a solution suitable for old and new types of guns which includes Elbit Systems' Enhanced Tactical Computer (ETC) and COMBAT, Artillery C4I and Fire Control Application. It controls all guns' electronic components: Integrated Navigation System, Gun Auto Laying Drive, Laser Range Finder, Vision Devices and interface to radios and ACCCS (Artillery Command Control and Communications System).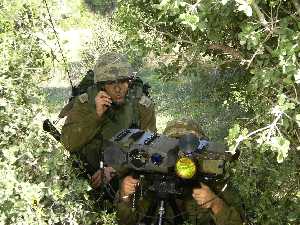 Weapon Integrated Battle Management System (WIN BMS)
An essential add-on to virtually any combat vehicle's mounted sensor or weapon system, forming well-coordinated battle teams that perform their tasks with optimum speed and precision. WINBMS supports the full spectrum of battalion-and-below tactical units requirements meeting their operational needs, including direct fire engagement and troops maneuvering, indirect fire support, intelligence and logistics. In addition to its combat networking capabilities, this integrating "super" system provides commanders and crewmen with simplified operational man-machine interface, enhanced situational awareness and data communication capabilities. Laser Warning System (E-LWS)
Îffers a variety of advanced LWS tailored to fit any customer's needs. These systems can detect, categorize and pinpoint laser and IR sources including laser rangefinders, laser designators, beam rider transmitters, IR illuminators and trainers. To deal with future threats Elbit Systems has made it possible to combine detecting capabilities of a variety of RF transmitters into its LWS products. Elbit Systems' LWS is immune to reflections from nearby objects, gun firing, lightning, fires, explosions and on-board laser operation. The LWS can be installed at field level as stand-alone or integrated systems. No armor machining is required for installation.
Elbit Systems
01.02.2010

Share...





Elbit Systems of Australia Concludes Successful Delivery of Thermal Weapon Sights to ADF
14.05.2018
Australian Minister for Defence Industry Publicly Announced Elbit Systems' Award of Additional BMS for the ADF
28.11.2017
Elbit Systems Presents SPEAR MK2 – Latest Version of the Fully Autonomous Mortar System for Lightweight Combat Vehicles
16.05.2017
Elbit Systems Brazilian Subsidiary, Ares, Awarded an Approximately $100 Million Framework Contract to Supply Remote Controlled Weapon Stations
11.01.2017
Discuss