GD UK Successfully Tests ASCOD SV Armour System
Category: Defence Industry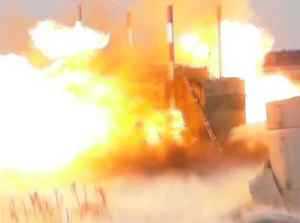 London -- General Dynamics UK has this week completed a series of demanding trials at the higher test levels required by the FRES SV programme to demonstrate that its ASCOD SV contender is already capable of delivering new levels of protection to British military personnel.
The ASCOD SV system design withstood a number of attacks from the latest mine threats in its base configuration. The system also enables enhanced levels of blast protection to be fitted, enabling protection against greater threats and providing the Army with the ability to adapt rapidly to evolving operational scenario.
Commenting on the successful mine blast test, Steve Rowbotham, General Dynamics UK Vice President, Advanced Projects and Technologies said, "This mine blast trial is a key milestone in demonstrating that ASCOD SV is the right answer for FRES SV. In addition to offering tonnes of capability and growth potential over the next 30 years, General Dynamics UK has demonstrated this week that ASCOD SV offers tonnes more protection to British military personnel today and in the future."
Mine threats are regularly encountered by Allied forces on current operations in Afghanistan, sometimes with devastating effect to vehicles and their occupants. This specific testing of the high levels of integrated survivability of ASCOD SV provides exacting evidence of the vehicles ability to afford maximum protection to the vehicle occupants.
These successful mine blast tests come only a month after the successful firing of the mandated CT40 Case Telescopic Weapon System by turret provider Lockheed Martin INSYS. In addition to the MoD benefiting significantly from the commonality between the FRES SV Scout and Warrior programmes provided by Lockheed Martin's turret, the FRES SV crew will benefit from having the maximum space to do their job while ensuring maximum protection, thanks to an innovative turret ring configuration and other features.
General Dynamics UK President and Managing Director, Sandy Wilson added: "We invested in these trials because protection is the essence of modern warfare. This proven solution, built into ASCOD SV from the start, will ensure that FRES SV delivers exceptional levels of protection to British soldiers from day one."
GD UK
03.02.2010

Share...





General Dynamics UK selected for Army Warfighting Experiment 2019
23.09.2019
The Transatlantic Partner for Land Defense in Europe - General Dynamics European Land Systems premiers four new offerings at EUROSATORY 2018
08.06.2018
Esterline Awarded $21 M by GD UK for Displays and Video Processing Units on SCOUT Vehicle Program
10.09.2015
Rheinmetall to take part in new Scout Specialist Vehicle programme for the British Army
03.08.2015
ASCOD (PIZARRO/ULAN) (Infantry fighting vehicle)
ASCOD II (ULAN) (Infantry fighting vehicle)
ASCOD SV (Infantry fighting vehicle)
ASCOD II APC (Infantry fighting vehicle)
Discuss