BAE Systems Receives $90.6 Million Order for Mine Resistant Ambush Protected Special Operations Vehicles
Category: Contracts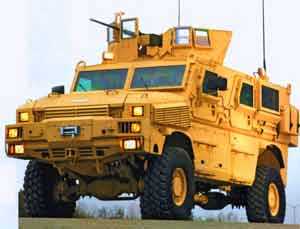 YORK, Pennsylvania -- BAE Systems has received a delivery order from the U.S. Marine Corps Systems Command worth up to $90.6 million to provide 58 U.S. Special Operations Command (SOCOM) Mine Resistant Ambush Protected (MRAP) vehicles.
The U.S. SOCOM vehicle is one of several MRAP variants based on the RG33 family of vehicles.
"These vehicles have been in service with our forces in Iraq providing survivability against improvised explosive devices (IEDs), medium machine gun or small arms fire and mine blast protection," said Mark Signorelli, vice president and general manager of New Vehicles and Amphibious Systems for BAE Systems. "The entire RG33 team is proud to be able to provide these highly survivable vehicles to support our troops."
Work on the delivery order will be performed by the existing workforce and will begin immediately at BAE Systems facilities in York, Pennsylvania and Aiken, South Carolina; with assistance from Letterkenny Army Depot (LEAD) and Spartan Motors Chassis' facility in Charlotte, Michigan.
Under a Public/Private Partnership Agreement, BAE Systems will work with LEAD to deliver the vehicles. Vehicle hull production will occur at BAE Systems' York, Pennsylvania facility while final assembly, integration, and test will occur at the depot in Chambersburg, Pennsylvania. Deliveries are scheduled to begin in September 2010 and run through December 2010.
About BAE Systems
BAE Systems is a global defense, security and aerospace company with approximately 107,000 employees worldwide. The Company delivers a full range of products and services for air, land and naval forces, as well as advanced electronics, security, information technology solutions and customer support services. In 2009 BAE Systems reported sales of £22.4 billion (US$ 36.2 billion).
BAE Systems
25.02.2010

Share...





BAE Systems` CV90 increases lethality by testing SPIKE LR anti-tank guided missile
14.01.2020
U.S. Marine Corps orders more Amphibious Combat Vehicles
11.11.2019
RAVEN Countermeasure System protects vehicles from missile threats
15.10.2019
BAE Systems unveils Robotic Technology Demonstrator Vehicle at AUSA
15.10.2019
BAE Systems Land Systems Hagglunds AB
BAE SYSTEMS Advanced Technology Centre
BAE SYSTEMS Customer Solutions & Support Land & Sea
BAE SYSTEMS Operational Training
BAE SYSTEMS RO Defence Small Arms Ammunition Division
BAE Systems North America, Land & Information Systems
RG-33 MRAP II (Mine protected carrier)
Cougar MRAP (Mine protected carrier)
Caiman MRAP (Mine protected carrier)
LAZAR BVT 8808-SR MRAP (Mine protected carrier)
MRAP-VVT (Crew training simulator)
Sherpa Medium MRAP (Mine protected carrier)
Discuss