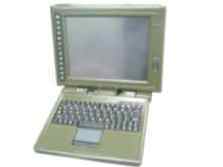 Military Notebook MLCOMM 10MMK
AT Electronic and Communication International is proud to release comprehensive range of Military Computers, Notebooks and Displays for use in tactical environments.
Systems are available for portable, fixed and vehicular mounted operations and are compatible with a range of computer peripherals. Each system manufactured undergoes a series of stringent performance and environmental tests to ensure a consistent quality product suitable for rugged environments.
Military Computer System MLCOMM-4000
Build-in 1553 Bus A & B ,Build-in RS232 / RS422 ,Build-in CF card slot ,All housing safety angle design
Military Notebook MLCOMM 10MMK
Plug & Play (no software or drivers required) Built-in Smart Pad Touchpad with Left & Right mouse buttons:-use 1 finger to activate Left click -use 2 fingers to activate Scroll-use 3 fingers to activate Right click 77 keys with Embedded Numeric Keypad
Military Computer MLCOMM-11M
Build-in 1553 Bus A & B10.4" LCD low Power10.4" LCD low Power , Intel® Pentium® M 1.6GHz CPU
Military Panel PC MLCOMM-15M
15" LCD Low Power, Intel® Pentium® M 1.6GHz CPU DDR 266/200 SO-DIMM memory up to 2GB LCD bonding with no air gap design Resistive touchscreen solution
Millitary Monitor MLCOMM-1004
Strenthen of the anti-reflection glass: 6H No steam & air between glass and LCD design Absolutely Sunlight readable
Military Multi Mission Monitor MLCOMM-17K
Low Reflection through Anti-Reflection Technology Wide Temperature Range All housing is IP65 waterproof
Military Monitor MLCOMM-2000
Low Reflection through Anti-Reflection Technology Design in Safety Angle and Handlers Wide Temperature Range Optical bonding technology
Rugged Panel PC MLCOMM 07
7" Wide screen with resistive touchscreen function Fanless cooling design All Housing IP64 protection
Military Monitor MLCOMM 7850
Provide extra DC9V power to external thermal Camera Strenthen of the anti-reflection glass: 7H Optical LCD bonding design.Absolutely Sunlight readable