Naza Bumar Unveils Rosomak 8x8 Amv At Dsa 2010
Category: Exhibitions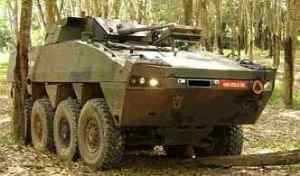 KUALA LUMPUR, 19th April 2010 – Naza Bumar, a subsidiary of Naza Defence unveiled its ROSOMAK 8x8 AMV (Armoured Modular Vehicle) on the opening day of the DSA (Defence Services Asia) 2010 exhibition at Putra World Trade Centre.
The ROSOMAK (which means 'Wolverine' in Polish) was developed by Naza Bumar's partner Bumar Sp. zo.o of Poland and currently in production in Poland for its Land Forces. These vehicles are currently being used by Polish Contingents in Afghanistan, Chad and Iraq.
MAIN CHARACTERISTICS OF ROSOMAK BASE VEHICLE
The main feature of the ROSOMAK 8x8 AMV is its modular design, which allows the incorporation of different turrets, weapons, sensors, and communications systems on the same platform. Where applicable and where specifications match the mission requirements, commercial off the shelf systems are fitted on the vehicles. The vehicle weighs between 18 and 26 tonnes depending on variants with different armour, turrets/weapons systems, ammunition and crew configurations.
One of the many outstanding features of the ROSOMAK is that it has a very good mine protection and can withstand explosions up to 10 kilograms (22 lb) TNT. It also has protection levels of up to 30 mm APFSDS (armour-piercing fin-stabilized discarding sabot), frontal arc.
Another important feature is its agile mobility, combining speed, agility, and crew comfort in all kinds of terrain and adverse climatic conditions, enabled by a sophisticated but rugged hydraulic suspension adjusting each wheel individually.
HULL
The vehicle is fitted with modular ballistic protection to the customer specification up to a protection level against 30mm armour piercing APFSDS rounds (at the least). The maximum internal volume of the 8x8 AMV vehicle is 13m, the combat weight up to 26 tonnes and the payload is 10 tonnes.
MANOEUVRABILITY
The maximum road speed of AMV is over 100km/h with an operating range 800km. The vehicle can negotiate 60% forward slopes, 30% side slopes, 0.7m steps and trenches up to 2.0m in width. The vehicle can ford water up to 1.5m in depth. The vehicle is fitted with two shrouded propellers, one on each side at the rear of the hull for amphibious capability. The swimming speed is 8km/h to 10km/h.
ENGINE
The dual power DI 12 Scania diesel engine produces 360kW and 1,974Nm torque. The drive system uses a ZF Ecomat 7HP902 automatic transmission with 7 +1 gears.
The driveline includes all-wheel drive, 14.00 R 20 tyres with run flat devices, disc brakes and central tyre inflation system (CTIS). The central tyre inflation capability gives reduced ground pressure. All wheels have independent suspension. In the suspension system there are hydro-pneumatic elements with optional vehicle ride height control.
SPECIFICATIONS OF BASE VEHICLE
Height (over hull) : 2.4m
Engine : SCANIA DI 12 56A03PE, max 360 kW (480 hp)
Power/weight : 15.6 kW/tonne (21.2 PS/tonne) (max weight)
Torque output max : 1970 Nm
Transmission model : ZF 7HP 902S Ecomat, 7 + 1 gears torque converter retarder CAN bus
Suspension : Independent Suspension all wheels
Operational range : 800 km (500 mi)
Speed : over 100 km/h (60 mph) on land, up to 10 km/h (6.2 mph) in water
VARIANTS
Rosomak Infantry Fighting Vehicle (IFV)
Infantry fighting vehicle variant with Oto Melara Hitfist-30P gun turret armed with 30mm ATK Mk 44 chain gun and 7.62mm NATO round UKM-2000C machine gun. The turret has advanced fire control system with thermal sight and OBRA laser warning system connected to 76 mm Wegmann smoke grenade launchers.
Rosomak-M1
Infantry fighting vehicle variant modified for war, equipped with additional steel-composite armour, upgraded communications, wire cutters in front of driver and commander hatch, video cameras showing back and sides of vehicle on two LCD screens in troop compartment, Pilar system that detects the direction of fire.
Rosomak Armoured Personnel Carrier
Armoured personnel carrier variant modified for specific mission, equipped with similar task equipment (including additional armour) as IFV variant. The main difference is that this variant is equipped with OSS-D open turret with 40mm Mk-19 grenade launcher or .50 BMG or 12.7 x 107 mm WKM-B heavy machine gun.
Rosomak Medical Evacuation Vehicle
An armoured ambulance vehicle with crew of 3, capable to transport 3 injured in stretched position and additional four in sitting position.
Rosomak-S
Armoured personnel carrier variant for two anti-tank teams armed with Spike anti-tank guided missile.
Rosomak Command Vehicle
A command vehicle for battalion commander. Demo vehicle prepared by WB Electronics was unveiled in late 2008.
Rosomak Air Defence Command Vehicle
Air defence command vehicle equipped with Łowcza (Loura) system. Similar to ZWD-10R Łowcza-3 (Loura-3).
USERS
Operators include Croatia, Finland, Poland, Slovenia, South Africa and the United Arab Emirates.
Naza
26.04.2010

Share...





Bumar Labedy represents the PT-17 MBT on the MSPO 2017
07.09.2017
Rheinmetall at MSPO 2017
06.09.2017
Jenoptik receives follow-up contracts for retrofitting Leopard 2 tanks
22.03.2017
Jenoptik to supply equipment with a value of 22 million euros to Poland for military land vehicles
21.10.2016
BUMAR LABEDY S.A. Zaklady Mechaniczne
Rosomak Spolka Akcyjna w Siemianowicach Slaskich
AMV / Rosomak (Wheeled armoured personnel carrier)
Rosomak WEM (Ambulance vehicle)
Rosomak M1M (Wheeled armoured personnel carrier)
Rosomak (Fire support vehicle)
Rosomak (Self-propelled antitank guided missile system)
Rosomak WD (Control and command vehicle)
Discuss