General Dynamics Robotic Systems Completes Successful Autonomous Navigation System Critical Design Review
Category: Robots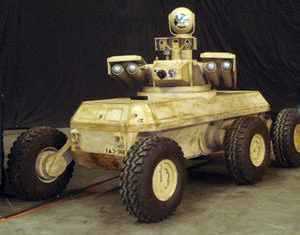 WESTMINSTER, Md. –- General Dynamics Robotic Systems' Autonomous Navigation System (ANS) program has successfully completed its Critical Design Review (CDR). General Dynamics Robotic Systems is a part of General Dynamics Land Systems of Sterling Heights, Mich., a business unit of General Dynamics.
The ANS system is an onboard, integrated suite of sensors and technology that enable autonomous navigation, perception, path-planning and vehicle-following capabilities for unmanned ground vehicles. Designated by the U.S. Army for integration on the Armed Robotic Vehicle-Assault (Light) (ARV-A(L)), the ANS is capable of controlling several other classes of manned and unmanned vehicles.
Successful completion of the CDR enables the General Dynamics Robotic Systems team to continue maturing, fabricating, and testing the ANS design. These activities will lead to delivery of prototypes and the start of Integrated Qualification Testing in 2012.
The ANS CDR is among the first in a series of critical Increment 2 reviews underway for the Army's Brigade Combat Team (BCT) Modernization program. General Dynamics Robotic Systems is the leading partner on the ANS program.
General Dynamics
24.05.2010

Share...





KONGSBERG CONCLUDES A $ 54 MILLION CONTRACT FOR THE DELIVERY WEAPON STATIONS TO CANADIAN ARMY
05.06.2020
Germany awards 159 MUSD vehicle contract to GDELS
24.04.2020
Kungas Unmanned Ground Vehicle Tested in Russia
11.12.2019
Switzerland awards contract to General Dynamics European Land Systems- Mowag to deliver 100 EAGLE 6x6 reconnaissance vehicles
06.12.2019
General Dynamics Land Systems - GDLS
General Dynamics Ordnance and Tactical Systems
General Dynamics European Land Systems-Mowag GmbH
General Dynamics Santa Barbara Sistemas
General Dynamics Armament Systems
General Dynamics Defence Systems
General Dynamics European Land Systems-Steyr GmbH
General Dynamics Armament and Technical Products (GDATP)
General Dynamics Amphibious Operations - GDAMS
General Dynamics Corp., Advanced Information Systems
General Dynamics Robotic Systems - GDRS
General Dynamics Land Systems - GDLS - Canada
General Dynamics European Land Systems - GDELS
Discuss