AT Communication at KADEX 2010
Category: Exhibitions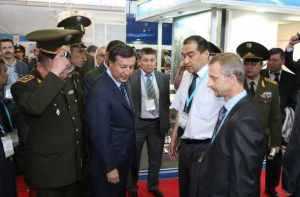 AT Communication is pleased to have hosted Kazakhstan Defence Minister Zhaksybekov Adilbek Ryskeldinovich on its booth at the KADEX Defence Exhibition held in the last week of May 2010.
Held in the capital Astana, AT Communication showcased its state of the art Codan 2110 tactical HF Manpack. The Defence Minister took particular interest in some of the superior technical specifications of the Codan transceiver.
To coincide with the exhibition AT Communication is also pleased to announce the signing of a Memorandum of Understanding with the Ministry of Defense of Kazakhstan.
AT Communication
01.06.2010

Share...





AT Communication is pleased to announce the expansion of its Tactical range of transceivers with the launch of the Sentry-H™ High Frequency (HF) SDR radio
22.09.2016
AT Communication is pleased to announce the launch of the AT SA Situational Awareness Terminal
11.06.2016
AT Communication International establishes US Headquarters in Rochester, New York
23.04.2016
AT Communication is pleased to announce the AT GNSS-01 Multi System GPS Receiver
28.11.2015
Discuss