Supacat completes 4th round of blast testing on SPV400 contender for UK MoD's £200m LPPV Programme
Category: Defence Industry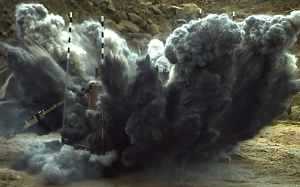 The all-new, all-British Supacat SPV400, which is competing to win a UK Ministry of Defence £200 million Urgent Operational Requirement for a Light Protected Patrol Vehicle (LPPV) to replace the Snatch Land Rover, last week completed a fourth round of blast tests.
These tests were conducted despite the LPPV bid having already been submitted to the MoD.
Previous blast tests have already proven the SPV400 protection levels exceed the stringent requirements of the LPPV Programme however, whilst protection levels cannot be revealed for security reasons, these latest tests have successfully achieved yet more. All tests conducted on the SPV400 have used the same automotive and protected composite crew pod systems to ensure consistent test data is gathered. The vehicle was repaired quickly between each blast underlining Supacat's modular philosophy with regards to its ability to be repaired in theatre following an event. All tests have been conducted at UK test ranges under MoD guidelines, underscoring the fact that all the SPV400 Intellectual Property Rights for both automotive and protection solutions are UK based, residing respectively with Devon based Supacat and Coventry based NP Aerospace.
"Supacat and our Alliance partner, NP Aerospace, have further demonstrated our commitment to developing the absolute best lightweight protected vehicle in the world. We have already reached the levels of protection asked for by the LPPV programme yet have chosen to continue our development to strive further still and these tests have proven that by the SPV400 withstanding some simply 'massive' explosions", said Nick Ames, Managing Director, Supacat Ltd. "The Supacat/NP Aerospace team believe it offers the best and a British solution – the SPV400. Its selection for LPPV would strengthen the UK's innovation and engineering skills base and support manufacturing jobs, sustaining between 1000 and 1200 jobs throughout the UK. The SPV400 is an entirely British Export and will have a potentially huge international market should it succeed in the LPPV competition".
Purpose designed to protect British troops from the threat of Improvised Explosive Devices in Afghanistan and perform patrol tasks in areas inaccessible to heavier vehicles, the Supacat SPV400 offers unprecedented levels of mobility and protection. This combination breaks new ground in military vehicle technology for a light patrol vehicle in the 7.5 ton class. Carrying a crew of six (2 +4), the SPV400 combines an integrated blast and ballistic protection system, including a protected all composite crew pod and V-shaped hull. On the desert plain it can reach speeds up to 80mph, comparable to the Supacat designed `Jackal`.
Supacat and NP Aerospace, are respectively world leaders in high mobility, all terrain vehicles and in composite armour protection systems. NP Aerospace designed the SPV400's composite crew pod and protection system with access to the UK's classified armour technology. The materials used offer protection from a range of threats and at much lower weight than a traditional steel design.
Both have significant experience in working with the British Army, with Supacat currently supplying the Jackal and Coyote vehicles while NP Aerospace integrates and supplies the Mastiff, Ridgback and Wolfhound vehicles.
Over 90% of the SPV400 is UK sourced with a 30 strong supply chain stretching from Darlington, where Cummins UK produce the engine, down to Devon, where the SPV400 is designed by Supacat. Half of the key suppliers are concentrated in the West Midlands around NP Aerospace's Coventry production facility where the SPV400 will be built. They include GKN Aerospace and GKN Driveline, Pailton Engineering, CSES Engineering, Park Sheetmetal Ltd, Garforth & Goodman, Christy Hydraulics, Dana UK Axles, AFS Ltd, Lighting Aerospace.
Supacat
27.07.2010

Share...





Supacat, Rheinmetall and SCISYS partnership showcases new High Mobility Integrated Fires Capability
12.09.2019
UK company pioneers autonomous hybrid vehicle for extreme off road operations
12.09.2019
Supacat delivers the first production HMT Extenda Vehicle to Norway
21.06.2018
Rheinmetall set to supply the Australian Defence Force with over 200 Boxer wheeled armoured reconnaissance vehicles
18.03.2018
Ocelot LPPV/Foxhound (Mine protected carrier)
Discuss