Textron Marine & Land Systems and MDT Armor Team on Tiger Light Armored Vehicle
Category: Defence Industry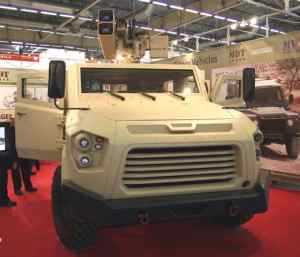 NEW ORLEANS & AUBURN, Ala. -- Textron Marine & Land Systems, an operating unit of Textron Systems, a Textron Inc.) company, and MDT Armor Corporation, a division of Arotech Corporation, today announced a teaming agreement to market, design and manufacture the Tiger light protected vehicle.
Based on a commercial off-the-shelf (COTS) Dodge® RAM® 5500 platform, the Tiger is a cost effective, light protected class all terrain vehicle with proven, highly reliable armor for a crew of six to nine. The Tiger is ballistic and mine blast protected, with various add-on armor options, and is designed with a spacious, versatile cabin and large payload capacity allows the Tiger to be tailored to many missions.
With a powerful Cummins® 350 HP diesel engine, large wheels, and a 127-inch wheel base, Tiger offers exceptional all terrain capabilities. The advanced suspension system ensures a comfortable ride for the crew. The 8.8 ton GVWR, with a standard armor package, allows for a 1.5 ton payload. A roof mounted remote controlled weapon station, or man-operated turret are optional.
"The Tiger is a high quality, off-road vehicle in the light armor segment that meets the needs of a wide variety of potential customers. With our lean manufacturing expertise and the low lifecycle cost of the Tiger we feel like this is an excellent teaming opportunity," said Textron Marine & Land Systems General Manager Tom Walmsley.
The Tiger is designed to be cost effective. The COTS Dodge platform ensures widespread support and cost effective maintenance. The unique encapsulated cabin allows easy access to all components. The cabin can easily be removed and remounted, allowing its installation on a new platform, increasing its life and ensuring low life cycle cost.
"Textron Marine & Land Systems has a proven track record in successfully taking prototype products to full-rate production at optimum cost and reliability with on-time delivery," said MDT Armor Corporation Executive Vice President Jonathan Whartman. "The Tiger is a versatile light protected armored vehicle and we're looking forward to working together with Textron Marine & Land Systems to bring it to market."
Textron
15.09.2010

Share...





At the Army-2019 will be presented a new version of the Tiger armored vehicle.
24.06.2019
Textron Systems Announces Plans to Acquire Robotics Innovator Howe & Howe Technologies
04.11.2018
Textron Systems Delivers First TAPV to the Canadian Army
30.08.2016
Tigr at Tank Days in Slovakia
12.07.2016
Textron Systems Maui Operations
GAZ-2330 STS Tiger (Tactical vehicle)
Tiger (Reconnaissance Vehicle)
VPK-233136 Tiger-M (Tactical vehicle)
China Tiger (Wheeled armoured personnel carrier)
Tiger Next/AMN-2 (Tactical vehicle)
Discuss