Oshkosh Defense Showcases Light Military Vehicle Technologies to Address the Evolution of the Modern Battlefield
Category: Exhibitions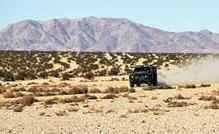 OSHKOSH, Wis. -- Oshkosh Defense, a division of Oshkosh Corporation, today unveiled a vehicle to demonstrate the future of light tactical wheeled vehicles at the AUSA 2010 Annual Meeting & Exposition.
This vehicle, called the Light Combat Tactical Vehicle (LCTV), features the company's latest advancements in off-road mobility, performance and protection for the U.S. military – including the next-generation of TAK-4® independent suspension systems. The new system provides increased off-road mobility, improved vehicle maneuverability and smoother ride quality.
"The LCTV technologies represent a forward-thinking, customer-guided approach to research and development, and more than 80 years of experience selling vehicles to the military," said Ken Juergens, Oshkosh Defense vice president and general manager, Joint Programs. "Our new TAK-4 system will further expand the vehicles' off-road capabilities to make military routes less predictable and Warfighters less susceptible to roadside attacks. Combined with our ProPulse diesel-electric powertrain and modular capsule design, the LCTV provides a glimpse into the survivability and mobility potential of the U.S. military's light vehicle fleets."
The ProPulse® technology delivers up to 20 percent improved fuel economy and has 70 kW of available military-grade power. The bolt-together capsule design – proven on the Oshkosh MRAP All-Terrain Vehicle (M-ATV) and legacy MRAPs – allows for vehicle upgrades and continuous enhancements to the capsule without having to weld or conduct major fabrication.
The next-generation TAK-4 suspension system delivers 20 inches of independent wheel travel. It also uses a larger shock absorber to deliver an even smoother ride quality at increased speeds and is adjustable to reduce vehicle height for better transportability. Like the demonstration vehicle's other technologies, it is scalable for use on light, medium and heavy fleets. Oshkosh's current TAK-4 independent suspension system has been proven in combat operations in Iraq and Afghanistan, where it has been successfully integrated on multiple vehicle platforms to include the M-ATV, Medium Tactical Vehicle Replacement (MTVR), and other legacy MRAP vehicles.
Oshkosh's ProPulse technology has been demonstrated on the Oshkosh Heavy Expanded Mobility Tactical Truck (HEMTT) A3 and the Oshkosh MTVR, which are undergoing testing with the Army and Marine Corps respectively. "The modular nature of the Oshkosh ProPulse system allows for easy integration and flexibility for the future, such as the inclusion of fuel cells for power generation," Juergens added.
The demonstration vehicle's capsule is optimized for weight and survivability, utilizing the latest and most proven technologies and techniques available to the Warfighter. Oshkosh has a history of delivering advanced survivability solutions. Its HEMTT A4 was the first vehicle delivered to the U.S. military with an integrated A-kit/B-kit armor configuration.
Oshkosh
25.10.2010

Share...





Oshkosh Defense Receives Order for 248 Joint Light Tactical Vehicles
02.07.2020
Oshkosh Defense Receives $407.3 Million Order for Joint Light Tactical Vehicles
24.02.2020
Oshkosh Defense Exhibits JLTV Firepower at IDEX 2019
24.02.2019
Oshkosh FMTV A2 Makes Debut at Ausa 2018, Multiple JLTVS Command the Floor
14.10.2018
Discuss