Valanx Unveiled In Australia
Category: Defence Industry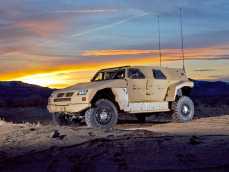 BRISBANE, Australia –- The `Valanx`, BAE Systems` solution to meet the Australian Protected Mobility Vehicle – Light (PMV-L) and the US Joint Light Tactical Vehicle (JLTV) program requirements was publicly unveiled for the first time in Australia today.
The Valanx, being offered to the Australian Defence Force under Project Land 121-Phase 4, is the centrepiece of the BAE Systems stand at the 2010 Land Warfare Conference in Brisbane.
Valanx is the result of four successive generations of demonstrator and prototype vehicles developed by BAE Systems.
The JLTV and PMV-L programs will replace much of the Humvee fleet in the US and the Land Rover Perentie vehicle in Australia respectively.
Director of Land and Integrated Systems Kim Scott said: "We believe the Valanx offers the Australian Army the safest and most capable vehicle.
"It's built for the modern warfighter and delivers on the demanding balance required for the 'Iron Triangle' of payload, performance and protection."
BAE Systems, along with partners Navistar Defense and Arvin Meritor, delivered three right-hand drive configured Valanx vehicles to the Australian Army in June 2010.
The Valanx vehicles and trailer have been undergoing trials at Army's test track in Monegeetta, Victoria since mid-2010, as part of the US Government's JLTV program.
In December, these vehicles will revert to Australian control for further evaluation against the Australian trials and evaluation program.
Local Field Service Representatives from BAE Systems Australia have been providing support for the vehicles at Monegeetta throughout the trials program.
Currently, the majority of Valanx's components are at Technology Readiness Level (TRL) 7, which is used to measure equipment maturity.
Mr Scott said the Australian vehicles were designed to be highly compatible with the US variants, ensuring interoperability between forces, while still being tightly tailored to meet the needs of Australian vehicle crews and commanders.
"At present, the US and Australian teams within BAE Systems are working together to examine candidate components and subsystems to enable Australian SMEs to participate in the global supply chain for the Valanx, should we be successful in the 50,000-60,000 vehicle JLTV program.
"This would provide 10-15 years of steady production for companies if selected."
The name Valanx is derived from the meaning of a phalanx – an ancient Greek formation designed to protect soldiers in combat – but introduces the "V" characteristic.
The Valanx has a signature V-shaped hull, designed to deflect a mine blast away from the vehicle, protecting the soldiers inside.
A media briefing about BAE Systems' Valanx will be held at the company's stand A11 at the Land Warfare Conference, from 2pm-3pm on Wednesday 17 November.
Learn more about the Valanx program at http://www.thevalanx.com
BAE Systems
25.11.2010

Share...





Oshkosh Defense Receives Order for 248 Joint Light Tactical Vehicles
02.07.2020
Oshkosh Defense Receives $407.3 Million Order for Joint Light Tactical Vehicles
24.02.2020
BAE Systems` CV90 increases lethality by testing SPIKE LR anti-tank guided missile
14.01.2020
U.S. Marine Corps orders more Amphibious Combat Vehicles
11.11.2019
BAE Systems Land Systems Hagglunds AB
BAE SYSTEMS Advanced Technology Centre
BAE SYSTEMS Customer Solutions & Support Land & Sea
BAE SYSTEMS Operational Training
BAE SYSTEMS RO Defence Small Arms Ammunition Division
BAE Systems North America, Land & Information Systems
Australian Defence Business Review
L-ATV/JLTV (Mine protected carrier)
Discuss