Lockheed Martin UK Starts Scout Turret Development
Category: Defence Industry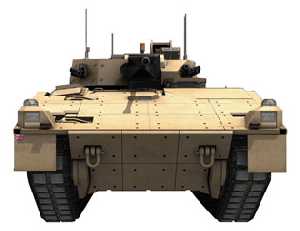 LONDON -- Lockheed Martin UK has been awarded the contract from General Dynamics UK to deliver the turret for the Scout reconnaissance vehicle.
Lockheed Martin has already been working on the project, thanks to advance funding provided by the MoD through General Dynamics UK as prime contractor, ahead of full contract agreement, to ensure the Demonstration Phase schedule remained fully on track. As part of this contract, Lockheed Martin UK - Ampthill will provide General Dynamics UK with three Scout turrets which will form part of the Integration and Test programme on the Demonstration Phase of the Scout project.
Alan McCormick, vice president and managing director of Lockheed Martin UK - Ampthill, said: "We are proud to be delivering the turret to General Dynamics UK and the British Army for the Scout reconnaissance vehicle, a key variant in the Specialist Vehicle fleet. The LM team will continue its excellent work on the development of the turret and ensure flawless execution of this vital programme."
Lockheed Martin UK is working to get its key suppliers under contract. These suppliers include: Defence Support Group for turret assembly integration and test; Rheinmetall Land Systems for the turret structure, cannon mounting structure and CT40 Cased Telescoped Cannon System integration; Ultra Electronics for power management; Curtiss Wright for turret drives and stabilisation control; Meggitt for the ammunition handling system and Moog for the slip ring. Lockheed Martin UK - Ampthill is responsible for fire control and training and as the turret systems integrator. Over 75 percent of this work will be done in the UK.
As specified by General Dynamics UK, the Scout turret has been designed to maximise space and protection for the crew inside. Recognising Scout is a reconnaissance vehicle and its ASCOD SV platform has a large turret-ring diameter of 1.7m, the design increases space and gives soldiers considerably more room for modern display screens, comfort for long periods inside the turret and ease of movement, even when wearing full body armour and future wearable systems.
With the need for military electronics ever-expanding on operations, the turret allows significant room for new systems to be fitted without compromising the design of the vehicle. The turret is designed around the CT40, which was successfully integrated and fired last year on a Warrior infantry fighting vehicle.
Lockheed Martin UK, a unit of Lockheed Martin Corporation, is a leader in systems integration, working on major programmes spanning the aerospace, defence and civil sectors. The organisation works with more than 100 business partners and employs over 1600 people at sites across the UK.
Headquartered in Bethesda, Md., Lockheed Martin is a global security company that employs about 133,000 people worldwide and is principally engaged in the research, design, development, manufacture, integration and sustainment of advanced technology systems, products and services. The Corporation's 2009 sales from continuing operations were $44.0 billion.
Lockheed Martin UK
03.12.2010

Share...





Lockheed Martin Autonomous Driving System Tops 55,000 Miles in Extended Army Testing
30.11.2017
SAAB Chosen As Sub-Contractor For The Ajax Virtual Crew Turret Trainer
14.10.2017
General Dynamics Land Systems–UK begins AJAX Manned Live Firing Phase of Programme, Using CTAI 40mm Cannon
18.09.2017
General Dynamics Land Systems–UK Will Deliver Innovative State-of-the-art Training Solutions for the AJAX Programme
14.09.2017
Lockheed Martin Electro-Optical Systems
Lockheed Martin Vought Systtems Corporation
Lockheed Martin Missiles and Fire Control
Discuss