General Dynamics European Land Systems presents the new PIRANHA Class 5 and the DONAR at IDEX 2011
Category: Exhibitions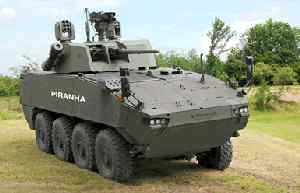 The latest member of the PIRANHA family of armoured wheeled vehicles, the PIRANHA 5, will be displayed in a Desert Piranha configuration with the Kongsberg .50 cal. Remote Control Weapon Station.
This advanced new vehicle will raise the benchmark in the areas of survivability, mobility and firepower, marking unprecedented progress in the development of armoured wheeled vehicles. PIRANHA 5 provides the highest levels of survivability against conventional and asymmetric threats, while having the capacity to fill all battlefield roles such as APC, Electronic Warfare, Ambulance, Reconnaissance, Command, Mortar and even Direct Fire with turrets up to 120 mm calibre. The vehicle on display at IDEX is an example of what can be achieved with PIRANHA 5, an APC with an internal seating capacity for eleven soldiers. The PIRANHA 5 can be supplied in either high or low roof configurations with open architecture, over 15 tons of payload and 120 kW electrical power. The vehicle is equipped with numerous other sub-systems that enhance performance and flexibility such as the digital CAN backbone; fuel efficient drivetrain technology; integrated heating, air-conditioning and NBC protection systems; and the 120 kW Inline Starter/Generator (ISG). As an example of the unrivalled performance that the PIRANHA 5 provides, the ISG generates the power for onboard systems while simultaneously providing up to 100 kW AC exportable power to sustain military or civilian infrastructure. The ISG also has the growth capability to recover brake energy for re-use to boost the vehicle power output to 700 hp and to reduce fuel consumption.
DONAR – A Revolution in the Artillery Doctrine
The DONAR is a new generation, air-deployable, autonomous and remotely operated 155mm artillery system that addresses the growing need for precise indirect-fire capabilities that can augment or even replace close-air-support operations previously conducted by costly fixed- or rotary-wing aircraft. The total systems weight is less than 31 metric tons, allowing the transport with the future European Transport Aircraft A400M or similar aircraft with payload capacities in this class. The complete remotely operated artillery module is equipped with a 155mm (52 cal.) cannon. DONAR's maximum range amounts to more than 56 kilometers (vlap). Despite a marked reduction in weight and size, the gun module is operational without any additional stabilization and provides a 360-degree azimuth range. In addition, the autonomous system character of DONAR allows a consistent step toward networked, centralized command and control (network centric warfare). The system possesses the high mobility of an Infantry Fighting Vehicle, derived from an adapted ASCOD version for artillery applications. Separated from the automatic gun module, a crew of only two soldiers (driver and commander) operates the system from a highly protected driver cabin, increasing survivability. The DONAR is a joint European technology program of General Dynamics European Land Systems and
Krauss-Maffei-Wegmann (KMW).
EAGLE - The New Survivability Standard
To meet the increasing demand in protection and payload, General Dynamics European Land Systems offers the new EAGLE vehicle. Due to its high payload capacity, it can either carry more equipment or heavier protection solutions, depending on the customer's requirements. The vehicle will be shown with the FN light Remote Control Weapon Station, armed with a 7.62 mm MAG machine gun. This highly mobile vehicle, with a capacity of 4 - 5 soldiers, offers outstanding protection against ballistic, mine and improvised explosive device (IED) threats. Interchangeable automotive parts and components with DURO armoured or soft-skinned vehicles provide a cost-effective logistics commonality.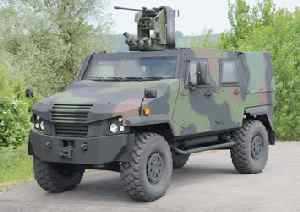 General Dynamics
21.12.2010

Share...





KONGSBERG CONCLUDES A $ 54 MILLION CONTRACT FOR THE DELIVERY WEAPON STATIONS TO CANADIAN ARMY
05.06.2020
Germany awards 159 MUSD vehicle contract to GDELS
24.04.2020
CONTRACT TO DELIVER REMOTE WEAPONS STATIONS TO DENMARK WORTH 270 MNOK
11.12.2019
Switzerland awards contract to General Dynamics European Land Systems- Mowag to deliver 100 EAGLE 6x6 reconnaissance vehicles
06.12.2019
General Dynamics Land Systems - GDLS
General Dynamics Ordnance and Tactical Systems
General Dynamics European Land Systems-Mowag GmbH
General Dynamics Santa Barbara Sistemas
General Dynamics Armament Systems
General Dynamics Defence Systems
General Dynamics European Land Systems-Steyr GmbH
General Dynamics Armament and Technical Products (GDATP)
General Dynamics Amphibious Operations - GDAMS
General Dynamics Corp., Advanced Information Systems
General Dynamics Robotic Systems - GDRS
General Dynamics Land Systems - GDLS - Canada
General Dynamics European Land Systems - GDELS
Dalian Eagle Sky Industries Co., Ltd - DES
Piranha II 10x10 (Fire support vehicle)
Piranha 8x8D (Wheeled armoured personnel carrier)
Piranha 6x6 (Wheeled armoured personnel carrier)
Piranha III 6x6 (Wheeled armoured personnel carrier)
Piranha (Wheeled armoured personnel carrier)
Piranha 8x8 (Wheeled armoured personnel carrier)
Piranha IIIC (Self-propelled antitank guided missile system)
Piranha IIIC (Command vehicle)
Piranha III 8x8 (Wheeled armoured personnel carrier)
Piranha II (Repair and recovery vehicle)
Piranha IV 8x8 (Wheeled armoured personnel carrier)
Piranha ACV (Fire support vehicle)
Eagle III (Observation Post Vehicle)
Piranha I 8x8 (Wheeled armoured personnel carrier)
Piranha II 8x8 (Wheeled armoured personnel carrier)
Piranha I 6x6 (Wheeled armoured personnel carrier)
Piranha I 4x4 (Wheeled armoured personnel carrier)
Piranha II 4x4 (Wheeled armoured personnel carrier)
Piranha II 6x6 (Wheeled armoured personnel carrier)
Piranha III 10x10 (Wheeled armoured personnel carrier)
Piranha III 10x10 (Reconnaissance Vehicle)
Piranha II 8x8 (Command vehicle)
Piranha III Kapris (Command vehicle)
Desert Piranha 5 (Wheeled armoured personnel carrier)
Piranha 6x6 (Wheeled armoured personnel carrier)
Piranha (Fire support vehicle)
Piranha (Self-propelled mortar)
Piranha (Reconnaissance Vehicle)
Piranha IIIC (Ambulance vehicle)
Piranha IIIC (Reconnaissance Vehicle)
Piranha IIIC (Wheeled armoured personnel carrier)
Piranha Evolution (Wheeled armoured personnel carrier)
Piranha V (Wheeled armoured personnel carrier)
DONAR AGM (Self-propelled howitzer)
Piranha IIIH (Wheeled armoured personnel carrier)
Piranha IIIH CRV (Reconnaissance Vehicle)
Piranha III ASV (Reconnaissance Vehicle)
Eagle V 4x4 (Tactical vehicle)
Piranha EVO (Wheeled armoured personnel carrier)
Piranha III REB (Armoured vehicle-launched bridge)
Piranha III CBRN (Nuclear/biological/chemical reconnaissance vehicle)
Piranha III+ (Wheeled armoured personnel carrier)
Eagle V 6x6 (Tactical vehicle)
EAGLE IV (Robot, Unmanned Vehicle)
Discuss