Renault Trucks Defense Receive New Orders for Syracuse Programme
Category: Contracts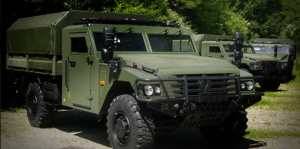 Versailles -- Renault Trucks Defense has signed with Thales a contract for supplying 21 units of vehicles type Premium, Midlum and Sherpa Light carrier dedicated to the tactical stations of the Syracuse III military satellite communications program.
In 2009 Renault Trucks Defense has already sold 33 units of Sherpa light carriers.
These new vehicles will be delivered in 2011.
Renault
18.01.2011

Share...





TEMPORARY COMPANY GROUPING EBMR MEETS ITS DELIVERY OBJECTIVES FOR 2019
14.01.2020
Rheinmetall Presents Next Gen "Wiesel Wingman" solution for Robotic Combat Vehicle – Light at AUSA 2019
04.11.2019
THALES AUSTRALIA AND GENERAL DYNAMICS ORDNANCE AND TACTICAL SYSTEMS DELIVERING FOR THE ADF
12.06.2019
FN Herstal Enhances Self-Protection Capabilities of deFNder RWS with ANTARES Situational Awareness System
11.06.2018
Renault Vehicles Industriels, Defence Direction
Thales Raytheon Systems France
Thales Optronics (Taunton) Ltd
Thales Training & Simulation (USA)
Syracuse Research Corporation's (SRC)
Sherpa 3 Special Forces (Tactical vehicle)
Sherpa Light (Tactical vehicle)
Sherpa Medium MRAP (Mine protected carrier)
Sherpa APC XL (Wheeled armoured personnel carrier)
Sherpa SF Light/PLFS (Tactical vehicle)
Sherpa/Hawkeye 105 (Self-propelled howitzer)
Discuss