BAE Systems gets R900m MRAP upgrade deal
Category: Defence Industry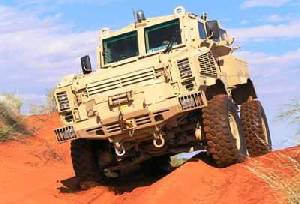 BAE Systems Land Systems South Africa has won a contract worth more than R900 million (US$130 million) for survivability and mobility upgrades to its RG31 Mine Resistant Ambush Protected (MRAP) vehicles through its teaming agreement with General Dynamics Land Systems Canada (GDLS-C).
The upgrade kits will further enhance the survivability and mobility of the battle-proven RG31 vehicles, BAE Systems says in a statement. As part of the modernisation work in South Africa, a powerpack providing higher performance and new suspension components and transfer cases, which were designed and manufactured by BAE Systems, will be incorporated into the upgrade kits.
"We appreciate our ongoing relationship with GDLS-C as well as the confidence that the US military has in the RG31 vehicle. Readiness and sustainment is an important part of our business and through these programmes we continue to protect the lives of US soldiers," said BAE Systems, Land Systems South Africa Managing Director Johan Steyn.
The RG31 is a mature, combat proven mine protected armoured personnel carrier designed, developed and manufactured by BAE Systems in South Africa. In total, over 1600 RG31 vehicles have been delivered through GDLS-C under the MRAP programme, an additional 566 RG31s have been delivered to US forces under separate contracts.
The 4x4 RG31, with its a V-shaped hull, was introduced in the mid-1990s and is superficially similar to the SA Army's Mamba. It is certified to protect its crew from rifle and light machine gun fire, anti-tank land-mine detonations and improvised explosive devices. In its standard troop carrying configuration the Mk 5E variant can carry up to ten troops (a driver plus nine others), although it can be configured for many other roles.
BAE Systems
01.02.2011

Share...





KONGSBERG CONCLUDES A $ 54 MILLION CONTRACT FOR THE DELIVERY WEAPON STATIONS TO CANADIAN ARMY
05.06.2020
Germany awards 159 MUSD vehicle contract to GDELS
24.04.2020
BAE Systems` CV90 increases lethality by testing SPIKE LR anti-tank guided missile
14.01.2020
Switzerland awards contract to General Dynamics European Land Systems- Mowag to deliver 100 EAGLE 6x6 reconnaissance vehicles
06.12.2019
General Dynamics Land Systems - GDLS
General Dynamics Ordnance and Tactical Systems
BAE Systems Land Systems Hagglunds AB
General Dynamics European Land Systems-Mowag GmbH
General Dynamics Santa Barbara Sistemas
General Dynamics Armament Systems
General Dynamics Defence Systems
General Dynamics European Land Systems-Steyr GmbH
General Dynamics Armament and Technical Products (GDATP)
General Dynamics Amphibious Operations - GDAMS
BAE SYSTEMS Advanced Technology Centre
BAE SYSTEMS Customer Solutions & Support Land & Sea
BAE SYSTEMS Operational Training
BAE SYSTEMS RO Defence Small Arms Ammunition Division
BAE Systems North America, Land & Information Systems
General Dynamics Corp., Advanced Information Systems
General Dynamics Robotic Systems - GDRS
General Dynamics Land Systems - GDLS - Canada
General Dynamics European Land Systems - GDELS
Discuss