SOE KMDB participates in IDEX 2011
Category: Exhibitions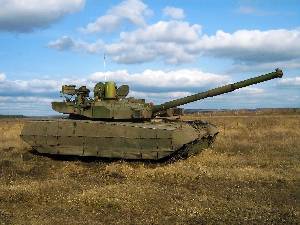 The State-Owned Enterprise Kharkiv Morozov Machine Building Design Bureau (SOE KMDB) will participate in IDEX 2011 International Defence Exhibition, which will take place in Abu Dhabi in 20-24 February 2011.
The enterprise will exhibit two vehicles - the Oplot main battle tank and the BTR-4 armoured personnel carrier.
The Oplot main battle tank is a tracked fighting vehicle that features a high firepower, reliable protection and high mobility.
The tank is intended to destroy all types of ground (floating) and low-flying low-speed ait targets under the conditions when the enemy fires back.
The vehicle can fulfil a wide range of combat missions under various climatic, weather and terrain conditions in the ambient temperature range of -40 to +55 degrees Centigrade, air humidity of up to 98% at temperature of +25 degrees Centigrade, height above sea level of up to 3000 m and with ambient air dust content available in real terrain conditions.
The BTR-4 armoured personnel carrier (APC) is intended to transport personnel of mechanized infantry units and to provide fire support in combat. The APC is used for equipping military units capable of carrying out combat actions in various conditions, including NBC environment. The APC can be used as a basic vehicle for equipping quick reaction forces and marine corps. The APC can fulfil its tasks both by day and at night, in various climatic conditions, on hard surface roads and in cross-country. The operating temperature range of the APC is -40 to +55°C.
About KMDB:
The Kharkiv Morozov Machine Building Design Bureau (KMDB) is a state-owned enterprise, which is now Ukraine's leading design authority for armoured fighting vehicles and used to play a key role in the development of armoured tracked vehicles in the former Soviet Union.
The contemporary activities of the KMDB are distinguished by three main factors:
the ability to offer customers a wide range of armoured vehicles and other products for both military and civil use, as well as obsolete vehicle upgrade packages
the provision of equipment closely tailored to customer's individual requirements
the availability of long-term support for the end user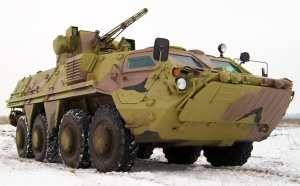 KMDB
18.02.2011

Share...





Problems of Russian Vacuum APFSDS-T projectile
25.01.2019
Bumar Labedy represents the PT-17 MBT on the MSPO 2017
07.09.2017
Representatives of the Iraqi Ministry of Defence Have Accepted Another Batch of BTR-4 Armoured Personnel Carriers
08.02.2013
Missile Tank
03.01.2013
Kharkiv Morozov Machine Building Design Bureau - KMDB
Discuss