Canadian Government Selects Oshkosh Defense and General Dynamics Land Systems-Canada Team to Pursue MSVS Program
Category: Defence Industry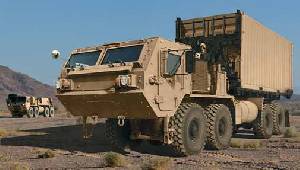 OSHKOSH, Wis. & LONDON, Ontario -- Oshkosh Defense, a division of Oshkosh Corporation, together with General Dynamics Land Systems-Canada, has been selected to compete for the Canadian Medium Support Vehicle System (MSVS) program. The Canadian Department of National Defence (DND) selected Oshkosh to proceed following the solicitation of interest and qualifications.
"Oshkosh is pleased to qualify for the Canadian MSVS program – a program that is well suited to our team's strengths in military vehicle and integrated systems design, as well as life-cycle sustainment," said Serge Buchakjian, senior vice president and general manager of International Programs for Oshkosh Defense. "The foundation of our MSVS program strategy is expanding Oshkosh operations and workforce in Canada, while providing the Department of National Defence with the very best long-term solution available."
Oshkosh Defense has teamed with General Dynamics Land Systems-Canada for the Standard Military Pattern (SMP) portion of the MSVS program, which will replace the Medium Logistics Vehicles, Wheeled (MLVW) fleet. The companies also are teamed for the Tactical Armoured Patrol Vehicle (TAPV) program, which will replace the Armoured Patrol Vehicle (APV) and the Coyote reconnaissance vehicle. The team unveiled a TAPV prototype in February.
The team continues to align its proposal to Canadian Government requirements for industrial and regional benefits. In February, the team announced that London Machinery, Inc. (LMI), an Oshkosh Corporation company, is set to provide in-country manufacturing for the team. The new facility in London, Ontario was designed and built with capacity for future programs. It fosters an experienced workforce to support the TAPV and MSVS programs, as well as a broad range of commercial and specialty vehicle programs.
General Dynamics Land Systems-Canada will provide systems integration and testing support for the vehicles, as well as the complete spectrum of in-country sustainment support.
Oshkosh will serve as the prime contractor for both MSVS and TAPV programs, and will leverage existing Oshkosh vehicle platforms and technologies for its MSVS proposal submissions, including the Heavy Expanded Mobility Tactical Truck (HEMTT), Family of Medium Tactical Vehicles (FMTV), and the Medium Tactical Vehicle Replacement (MTVR). Oshkosh Defense uses the services of Valley Associates to provide Canadian-based marketing and business development.
Oshkosh
11.03.2011

Share...





Oshkosh Defense Receives Order for 248 Joint Light Tactical Vehicles
02.07.2020
Oshkosh Defense Receives $407.3 Million Order for Joint Light Tactical Vehicles
24.02.2020
Oshkosh Defense Exhibits JLTV Firepower at IDEX 2019
24.02.2019
Oshkosh FMTV A2 Makes Debut at Ausa 2018, Multiple JLTVS Command the Floor
14.10.2018
MTVR (Modernization of the vehicle)
Discuss