General Dynamics Awarded $41 Million for RG-31 MRAP
Category: Defence Industry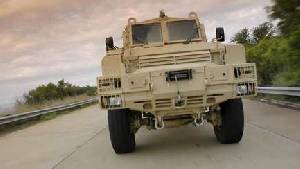 LONDON, Ontario -- The U.S. Marine Corps Systems Command has awarded General Dynamics Land Systems-Canada three delivery order modifications valued at USD$41.4 million for upgrade kits for RG-31 Mk5E vehicles previously delivered under the Mine Resistant Ambush Protected (MRAP) vehicle program. General Dynamics Land Systems, the Canadian company's parent corporation, is a business unit of General Dynamics.
The kits will enhance the survivability and operation of the RG-31 vehicles to the latest production configuration. The delivery of the kits is expected to be completed by January 2012.
The contracts were signed through the Canadian Commercial Corporation, a Crown Agency of the Canadian Government.
Sergyi Way
24.03.2011



www.army-guide.com
Share...





KONGSBERG CONCLUDES A $ 54 MILLION CONTRACT FOR THE DELIVERY WEAPON STATIONS TO CANADIAN ARMY
05.06.2020
Germany awards 159 MUSD vehicle contract to GDELS
24.04.2020
Switzerland awards contract to General Dynamics European Land Systems- Mowag to deliver 100 EAGLE 6x6 reconnaissance vehicles
06.12.2019
General Dynamics Land Systems–UK showcases adaptable Foxhound vehicle at DSEI 2019
23.09.2019
General Dynamics Land Systems - GDLS
General Dynamics Ordnance and Tactical Systems
General Dynamics European Land Systems-Mowag GmbH
General Dynamics Santa Barbara Sistemas
General Dynamics Armament Systems
General Dynamics Defence Systems
General Dynamics European Land Systems-Steyr GmbH
General Dynamics Armament and Technical Products (GDATP)
General Dynamics Amphibious Operations - GDAMS
General Dynamics Corp., Advanced Information Systems
General Dynamics Robotic Systems - GDRS
General Dynamics Land Systems - GDLS - Canada
General Dynamics European Land Systems - GDELS
RG-33 MRAP II (Mine protected carrier)
Cougar MRAP (Mine protected carrier)
Caiman MRAP (Mine protected carrier)
LAZAR BVT 8808-SR MRAP (Mine protected carrier)
MRAP-VVT (Crew training simulator)
Sherpa Medium MRAP (Mine protected carrier)
Discuss