Iraqi inspection team accepts the first batch of BTR-4 armoured personnel carriers produced by SOE KMDB
Category: Defence Industry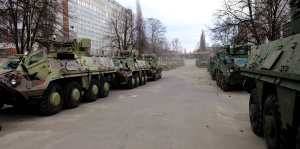 The Ukrainian UKRSPETSEXPORT state company has announced that, in accordance with the terms and conditions of the contract for supply of military vehicles to Iraq, the Iraqi inspection team accepted the first batch of BTR-4 armoured combat vehicles (totally 26 vehicles).
Most of the 26 vehicles are armoured personnel carriers fitted with Parus overhead weapon station. Apart from these, the batch includes specialized BTR-4 versions (in particular, command staff and command vehicles).
Also accepted were technical maintenance vehicles and simulators intended for training the BTR-4 crews.
The Iraqi inspection team thoroughly tested the above-mentioned batch of vehicles. In particular, every second vehicle was subjected to firing trials. The Ukrainian armoured vehicles were highly evaluated by the Iraqis.
The main contractor under this contract is the State-owned Enterprise Kharkiv Morozov Machine Building Design Bureau (KMDB). The sub-contractors of KMDB include State-owned Enterprise Kharkiv Engine Design Bureau, State Enterprise Malyshev Plant, and other enterprises Ukrainian defence-related enterprises.
According to some information that was released in the mass media earlier, the first batch of the BTR-4s was initially planned to be shipped to Iraq late in 2010, but the vehicles were not accepted by the then Iraqi inspection team. This is believed to be caused, in particular, by a low quality of Ukrainian 30 mm guns. However, the Ukrainian enterprises managed to quickly eliminate the drawbacks and ensure the required quality.
The above-mentioned batch of military vehicles is planned to be shipped to Iraq in April 2011.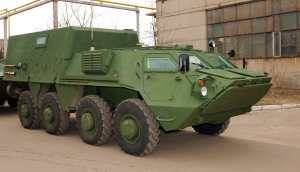 Sergyi Way
28.03.2011



www.army-guide.com
Share...





General Dynamics Land Systems–UK showcases adaptable Foxhound vehicle at DSEI 2019
23.09.2019
UK Army Robotics Receive GBP66 M Boost
07.03.2019
Problems of Russian Vacuum APFSDS-T projectile
25.01.2019
FLIR Systems Awarded $74.7 Million Contract for Land Surveillance Systems for U.S. Army
04.10.2017
Kharkiv Morozov Machine Building Design Bureau - KMDB
Discuss