General Dynamics and Rafael Win $38M Contract to Supply Reactive Armor to American Vehicles in Iraq
Category: Defence Industry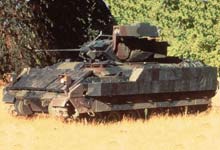 HAIFA, Israel -- Rafael Armament Development Authority Ltd. and General Dynamics have won a contract valued at $38M to supply reactive armor for the U.S. Army Bradley APCs serving in Iraq. The reactive armor, developed by Rafael especially for the Bradleys, is the newest generation of reactive armor available worldwide.
The armor is mounted onto the vehicle and provides the crew inside with excellent protection against a variety of anti-armor weapons, including shoulder-launched weapons. A few months ago, Rafael received an official letter of commendation from the Americans clearly stating that the Rafael armor – passive on the AAV7 APC and the reactive on the Bradleys – successfully withstood tough battles and saved the lives of many soldiers in Iraq. Dr. Eitan Yudilevich, VP Marketing and Business Development at Rafael, said that "The successful cooperation between GD and Rafael has proved that both companies are capable of working together to achieve customer satisfaction and successful business results.
As a result of this success, the companies have decided to expand their cooperation to other business activities." Rafael has gained an excellent reputation over the years for its passive and active armor products suited to a variety of tanks and combat vehicles in the IDF, such as the "Nakpadon". It is important to note that the same technology that was used for the American vehicle armor, which has stood-up successfully against a number of threats, will also be used in creating the armor for the IDF's M-113. Rafael designs, develops, manufactures and supplies a wide range of advanced defense systems for all branches of the military and homeland security forces.
Tailored to its customer`s specific needs, Rafael provides state-of-the-art, yet cost-effective systems and weapons in the fields of Missiles, Air Defense, Naval Systems, Target Acquisition, EW, C4ISR, Communication Networks, Data Links, Electro-Optic Payloads, Trainers and Simulators, Add-on Armor, Combat Vehicle Upgrading, Mine Field Breaching, Border and Coastal Protection Systems, UAVs and much more.
Rafael
26.07.2005

Share...





KONGSBERG CONCLUDES A $ 54 MILLION CONTRACT FOR THE DELIVERY WEAPON STATIONS TO CANADIAN ARMY
05.06.2020
Germany awards 159 MUSD vehicle contract to GDELS
24.04.2020
BAE Systems` CV90 increases lethality by testing SPIKE LR anti-tank guided missile
14.01.2020
Switzerland awards contract to General Dynamics European Land Systems- Mowag to deliver 100 EAGLE 6x6 reconnaissance vehicles
06.12.2019
General Dynamics Land Systems - GDLS
General Dynamics Ordnance and Tactical Systems
General Dynamics European Land Systems-Mowag GmbH
RAFAEL Armament Development Authority Ltd.
General Dynamics Santa Barbara Sistemas
General Dynamics Armament Systems
General Dynamics Defence Systems
General Dynamics European Land Systems-Steyr GmbH
General Dynamics Armament and Technical Products (GDATP)
General Dynamics Amphibious Operations - GDAMS
RAFAEL Ordnance Systems Division
General Dynamics Corp., Advanced Information Systems
General Dynamics Robotic Systems - GDRS
General Dynamics Land Systems - GDLS - Canada
General Dynamics European Land Systems - GDELS
Bradley M2/M3 (Infantry fighting vehicle)
Bradley M2A3/M3A3 (Infantry fighting vehicle)
Bradley M6 Linebacker (Anti-aircraft system)
Bradley M2A3 (Modernization of the vehicle)
Bradley M7 (Observation Post Vehicle)
Bradley M2A1/M3A1 (Infantry fighting vehicle)
Bradley M2A2/M3A2 (Infantry fighting vehicle)
Bradley M2A3 IBAS (Modernization of the vehicle)
Bradley AMTV (Ambulance vehicle)
Bradley AMEV (Ambulance vehicle)
Bradley BMV (Self-propelled mortar)
Discuss