BAE Systems Awarded $53 Million From U.S. Marine Corps for MRAP Work
Category: Contracts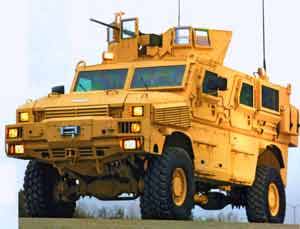 ARLINGTON, Virginia -- BAE Systems received multiple awards from the U.S. Marine Corps totalling more than $53 million for five separate delivery orders to provide upgrades for RG 33 Mine Resistant Ambush Protected (MRAP) vehicles currently in the field.
"This work is important to ensure that MRAP vehicles deployed with our troops are enhanced to maximize mission effectiveness and are appropriately supported on operations to ensure availability," said Chris Chambers, vice president and general manager of the tactical wheeled vehicles product line at BAE Systems. "Keeping these vehicles capable of performing in increasingly demanding conditions and terrain is paramount, adding to our troops safety and success."
The RG-33 Family of Vehicles (FOV) are highly survivable, mine-resistant vehicles capable of meeting multiple mission profiles with several mission-specific variants. BAE Systems received an award for $11.8 million for the delivery of Skydex flooring and Vehicle Emergency Escape (VEE) Window assemblies for selected RG-33 vehicles. The Skydex flooring provides additional ballistic shock protection to the vehicle occupants, while the VEE Window allows soldiers to remove the ballistic rear window in seconds and quickly exit the vehicle in an emergency.
Additional funding in the amount of $5.8 million was awarded for periodic maintenance and updates to the RG-33 FOV technical data package. A total of $10.8 million was awarded to provide instructor and field service personnel in support of vehicle operation and maintenance training and to support and maintain the fielded RG-33 vehicle fleet. It will also support the field upgrade of the RG-33 SOCOM A0 vehicle to the A1 configuration with independent suspension and other vehicle improvements that allows the vehicle to operate more effectively in the rough terrain of Afghanistan and support mission requirements.
Finally, $7.1 million was awarded to provide a universal MRAP maintenance workforce in support of Operation Enduring Freedom. The maintenance workforce will be located in Bagram, Afghanistan with completion expected by December 2011.
BAE Systems
25.07.2011

Share...





BAE Systems` CV90 increases lethality by testing SPIKE LR anti-tank guided missile
14.01.2020
U.S. Marine Corps orders more Amphibious Combat Vehicles
11.11.2019
RAVEN Countermeasure System protects vehicles from missile threats
15.10.2019
BAE Systems unveils Robotic Technology Demonstrator Vehicle at AUSA
15.10.2019
BAE Systems Land Systems Hagglunds AB
BAE SYSTEMS Advanced Technology Centre
BAE SYSTEMS Customer Solutions & Support Land & Sea
BAE SYSTEMS Operational Training
BAE SYSTEMS RO Defence Small Arms Ammunition Division
BAE Systems North America, Land & Information Systems
RG-33 MRAP II (Mine protected carrier)
Cougar MRAP (Mine protected carrier)
Caiman MRAP (Mine protected carrier)
LAZAR BVT 8808-SR MRAP (Mine protected carrier)
MRAP-VVT (Crew training simulator)
Sherpa Medium MRAP (Mine protected carrier)
Discuss