Elbit Systems Successfully Completed Customer Acceptance Tests of First 30mm Unmanned Turret Supplied to the Brazilian Army
Category: Defence Industry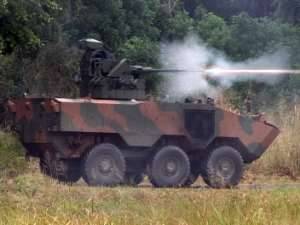 Haifa, Israel -- Elbit Systems Ltd. ("ESLT") announced today that it has successfully concluded customer acceptance tests of first 30mm unmanned turret UT30BR, integrated into the Brazilian IVECO 6X6 Guarani vehicle.
The unmanned turret was fielded at CAEx (the Brazilian Army's Marambaia testing facility in Rio de Janeiro), testing all its operational functions as well as firing both static and moving targets. The tests were successfully completed, complying to all requirements and to the customer's full satisfaction.
In 2009, after a bid between world leading turrets manufacturers, Elbit Systems was selected to supply unmanned turrets to the Brazilian Army's Land Forces. This multi-year program holds great potential to the company in terms of future procurement.
Earlier this year (2011), Elbit Systems' Brazilian subsidiary, AEL SISTEMAS SA, ("AEL") was awarded a framework contract, for the supply of UT30BR 30 mm Unmanned Turrets to the Brazilian Army's Land Forces, as part of the Guarani Project.
Elbit Systems' unmanned turret is a complete system, incorporating a 30mm automatic cannon, a 7.62 mm coaxial machine gun, a Laser Warning System (LWS), commander panoramic sight and smoke grenade launchers. In addition to the aforementioned elements, Elbit Systems' unmanned turret is fully dual axis stabilized and combines an automatic target tracker.
The unmanned turret features Elbit Systems' proprietary technology, answering a suitable solution to the asymmetric warfare challenges. The unique design, operated from within the crew compartment without exposure to external hazards, is based on extensive battlefield experience in full scale and low intensity conflicts, and attests to Elbit Systems' leadership in the field of turret and fire control systems.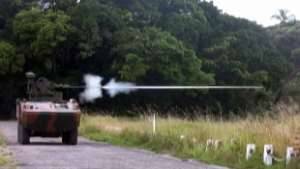 Elbit
07.09.2011

Share...





General Dynamics European Land Systems presents a new variant of PIRANHA IFV at the HEMUS Exhibition 2018
04.06.2018
Elbit Systems of Australia Concludes Successful Delivery of Thermal Weapon Sights to ADF
14.05.2018
Australian Minister for Defence Industry Publicly Announced Elbit Systems' Award of Additional BMS for the ADF
28.11.2017
Rheinmetall selects Queensland for Military Vehicle Centre of Excellence
15.07.2017
UT 30BR (Remote controlled weapon station)
Discuss