Qatar`s Internal Security Forces Order 27 Vehicles From Renault Trucks Defense
Category: Contracts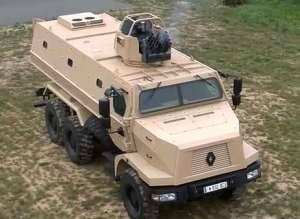 VERSAILLES, France -- The Qatari Internal Security Forces (ISF) have just ordered 22 HIGUARD (MRAP) and 5 Sherpa light APCs from Renault Trucks Defense. The delivery of the vehicles is scheduled for 2012/2013.
The HIGUARD vehicle is derived from a Sherpa medium 6x6. This vehicle can provide very high levels of protection in certain configurations and can transport up to twelve fully equipped personnel. Its dissuasive silhouette makes it highly suitable to law enforcement units.
The Sherpa APC Security and Law Enforcement version can deploy 10 men and act as a mobile command post. The Sherpa APC is the troop transport version of the Sherpa range.
Designed in conformity with military standards, it offers excellent mobility and robust crew protection. This vehicle is already in service with several customers, including France and NATO.
This order is the result of 4 years of discussions with the ISF. The quality of Renault Trucks Defense vehicles is recognized by the ISF, which had already acquired other vehicles from the brand's range.
Renault Trucks Defense, a reference manufacturer for the terrestrial armed forces, designs and develops a full range of armoured vehicles, with the SHERPA. Legacy supplier to the French Army, with more than 4,000 VAB armoured personnel carriers in service, Renault Trucks Defense can claim more than 65 customer countries across the world. Employing 600 people in France, RTD's 2010 revenues exceeded EUR 300 M.
Armoured vehicles represent more than 60% of its activity, but it also has a truck offering geared to a very full range of military uses. Renault Trucks Defense participates in programmes with Nexter, such as the CAESAR artillery system and the VBCI infantry fighting armoured vehicle. It holds several brand names across the world, including ACMAT.
Renault Trucks Defense
12.12.2011

Share...





Nexter and Texelis win the lightweight VBMR contract
13.02.2018
RENAULT TRUCKS Defense offers a new line of vehicles to internal security forces
22.11.2017
First Parade On The Champs-Elysees For The Armysís Future Connected Armorsd Vehicle
25.07.2017
319 GRIFFON and 20 JAGUAR vehicles ordered from Nexter, Renault Trucks Defense and Thales by the DGA as part of the SCORPION program
25.04.2017
Renault Vehicles Industriels, Defence Direction
Sherpa 3 Special Forces (Tactical vehicle)
Sherpa Light (Tactical vehicle)
Sherpa Medium MRAP (Mine protected carrier)
Sherpa APC XL (Wheeled armoured personnel carrier)
Sherpa SF Light/PLFS (Tactical vehicle)
Sherpa/Hawkeye 105 (Self-propelled howitzer)
Discuss