Spartan Chassis Receives Order From BAE Systems for International Light Armored Vehicles
Category: Defence Industry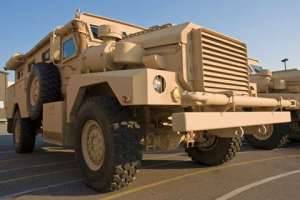 CHARLOTTE, Mich. -- Spartan Chassis, Inc., a subsidiary of Spartan Motors, Inc., has received a multi-million dollar subcontract award from defense contractor BAE Systems to support the production of advanced tactical vehicles and spare parts under the International Light Armored Vehicle (ILAV) Program.
"We appreciate our ongoing relationship with BAE Systems," said Tom Gorman, Chief Operating Officer of Spartan Motors, Inc. "This opportunity—which is smaller in volume with greater product variation—is in direct alignment with our strategic and operational strengths of leveraging our expertise, speed and agility to produce reliable vehicle solutions."
Under the terms of the ILAV program, the Michigan-based custom chassis manufacturer will produce 10 ILAVs in two different configurations and supply ILAV spare parts. These mine protected vehicles, provided to the United States Government as part of a Foreign Military Sales contract with BAE Systems, are scheduled to be completed in the first quarter of 2012 and delivered to Iraq in the second quarter of 2012.
Spartan has a proven history of building ILAVs for BAE Systems since 2006 and has delivered over 700 of these vehicles to Iraq, Yemen and United States military customers. The ILAV features a 4x4 v-shaped hull and has five variants which include: International Light Armored Vehicle (base vehicle), Interrogator Arm, Explosive Ordnance Disposal, Joint Surrogate Vehicle and Mine Resistant Ambush Protected (MRAP) Training.
In addition to this new award, Spartan also continues its ongoing support of MRAP prime contractors and the U.S. Government by providing spare/replacement parts for many of the vehicles built at Spartan during the MRAP program.
Spartan Chassis
22.12.2011

Share...





General Dynamics Land Systems–UK showcases adaptable Foxhound vehicle at DSEI 2019
23.09.2019
U.S. Army Places $100.1 Million Order For 258 Joint Light Tactical Vehicles
23.12.2017
The Finnish army is testing a new MiSu armored vehicle
15.12.2017
OSHKOSH DEFENSE DISPLAYS THE NEXT GENERATION OF LIGHT VEHICLES WITH UNMATCHED MOBILITY AND TRANSPORTABILITY
13.12.2017
ILAV Badger (Wheeled armoured personnel carrier)
FV103 Spartan (Tracked armoured personnel carrier)
RG-33 MRAP II (Mine protected carrier)
Cougar MRAP (Mine protected carrier)
Caiman MRAP (Mine protected carrier)
LAZAR BVT 8808-SR MRAP (Mine protected carrier)
MRAP-VVT (Crew training simulator)
Sherpa Medium MRAP (Mine protected carrier)
Spartan (Wheeled armoured personnel carrier)
Discuss