U.S. Marine Corps to Receive More Than 200 Oshkosh LVSRs
Category: Defence Industry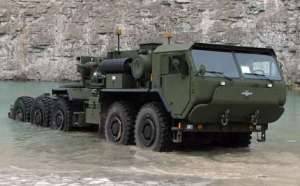 OSHKOSH, Wis. -- Oshkosh Defense, a division of Oshkosh Corporation, will deliver more than 140 Logistics Vehicle System Replacement (LVSR) cargo trucks and nearly 70 LVSR tractors for the U.S. Marine Corps following an order from the U.S. Marine Corps Systems Command.
The LVSR was first fielded in Afghanistan in 2009 and has quickly proven itself as the Marines' new heavy-payload platform, delivering improvements in mobility, protection and performance.
"Our ongoing commitment to internal innovation at Oshkosh allows us to design, upgrade and sustain highly advanced vehicles like the LVSR and ensure military fleets remain in sync with evolving challenges in theater," said John Bryant, vice president and general manager of Joint and Marine Corps Programs for Oshkosh Defense. "The LVSR's advanced design allows it to accept protection upgrades and perform missions that are above and beyond what the original vehicle requirements called for."
The LVSR cargo variant is used in even the most challenging terrain to transport a wide range of supplies and materials, including ammunition, fuel containers, bridging equipment, flatracks and ISO containers. The LVSR tractor variant is designed to haul combat vehicles, semi-trailers and other equipment. It has a fifth-wheel vertical-loading capacity of 25.3 tons and a recovery winch with a 30-ton capacity.
The LVSR is produced in three variants – cargo, wrecker and tractor – and is used in tandem with the medium-payload, Oshkosh-built Medium Tactical Vehicle Replacement (MTVR). The LVSR is equipped with the Oshkosh Command Zone™ embedded diagnostics system to provide real-time performance feedback on major vehicle systems, including the engine, transmission and brakes. The vehicle also uses the company's patented TAK-4® independent suspension system for off-road mobility in severe landscapes.
The order is valued at more than $94 million and work is expected to be completed in September 2013. Oshkosh to date has received orders for more than 2,000 LVSRs.
Sergyi Way
16.02.2012



www.army-guide.com
Share...





Oshkosh Defense Receives Order for 248 Joint Light Tactical Vehicles
02.07.2020
Oshkosh Defense Receives $407.3 Million Order for Joint Light Tactical Vehicles
24.02.2020
Oshkosh Defense Exhibits JLTV Firepower at IDEX 2019
24.02.2019
Oshkosh FMTV A2 Makes Debut at Ausa 2018, Multiple JLTVS Command the Floor
14.10.2018
Discuss