Morozov KMDB has handed over the second batch of BTR-4 armored vehicles to Iraqi inspection
Category: Defence Industry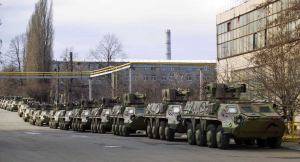 Kharkiv, Ukraine -- The Iraqi side has taken over the second batch consisting of 62 8×8 BTR-4 armored vehicles made by Kharkov Morozov Machine Building Design Bureau, Malyshev plant and other Ukrainian enterprises that are a part of Concern Ulroboronprom.
Head of the inspection team of the Iraqi Republic Ministry of Defense has said that the ministry of Defense of the Iraqi Republic has been fully satisfied with the quality of the armored vehicles made in Ukraine. He thanked the employees of KMDB, as well as representatives of SE Ukrspecexport, SE Ukroboronprom and other participants of trials for endurance, having marked the high level of the works done and services rendered.
The second batch includes 62 vehicles, that comprise BTR-4 combat vehicles, armed with Parus remote controlled weapon station, specialized vehicles – commander's, command-staff, ambulance and recovery vehicles, as well as training simulators and maintenance vehicles.
Kharkov Morozov Machine Building Design Bureau has been the designer and main contractor under the contract. The vehicles have been manufactured at the KMDB and Malyshev plant facilities, a large number of Ukrainian enterprises participated in supply of components.
"Acceptance by the Iraqi inspection of the second batch of BTR-4 armored vehicles is very important for KMDB, since it proves the worthy technical level of our equipment, as well as readiness to meet the most demanding needs of our customers. We are thankful to representatives of the Ministry of Defense of Iraq for complete professionalism and insistence on high standards displayed during joint activities", said A.I. Veretennikov, General Designer of KMDB.
He also added: "BTR-4 armored vehicle is presently attracting much interest from the potential customers world over and successful delivery of the next batch is a good signal for them. We are ready for cooperation with all customers, ready to take into consideration their specific interests in our products."
KMDB
06.06.2012
morozov.com.ua
Share...





General Dynamics Land Systems–UK showcases adaptable Foxhound vehicle at DSEI 2019
23.09.2019
UK Army Robotics Receive GBP66 M Boost
07.03.2019
Problems of Russian Vacuum APFSDS-T projectile
25.01.2019
FLIR Systems Awarded $74.7 Million Contract for Land Surveillance Systems for U.S. Army
04.10.2017
Kharkiv Morozov Machine Building Design Bureau - KMDB
Discuss