Rheinmetall's Amarok M Light Multi-Purpose Vehicle (LMPV) at Eurosatory 2012
Category: Exhibitions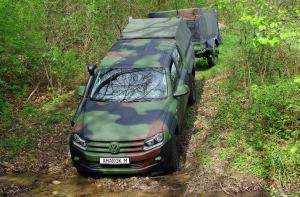 Outstanding mobility both on and off road, flexibility and reliability – these are the chief features of the lightweight all-terrain vehicles in service with armed forces around the globe.
Rheinmetall MAN Military Vehicles (RMMV) has now expanded its product portfolio to include a commercial off-the-shelf vehicle in the below 3.5 t class. RMMV is displaying its new Amarok M Light Multi-Purpose Vehicle (LMPV) for the first time at this year's Eurosatory.
The Amarok M is a light multi-purpose vehicle that can be readily configured to meet individual customer requirements. Different equipment kits enable it to perform awide range of missions. During the development process, RMMV placed great emphasis on meeting the twin military requirements of maximum modularity and ergonomic design.
The vehicle interior is spacious enough to seat up to four fully equipped soldiers.
Rifle racks, a radio system with handsets and room for stowing additional equipment assure excellent ergonomics.
At a total vehicle weight of three tonnes, the Amarok M can carry a payload of up to 1.37 tonnes (with the basic cab).
All-wheel drive, an off-road anti-blocking system, an advanced, high-performance diesel or petrol-fuelled engine (90 to 132 kW, Euro 5), and a choice of eight-gear automatic or six-gear standard transmission combine to assure high mobility whether on hard surfaces or off road.An engine output of up to 180 HP (depending on the configuration) delivers a maximum speed of 180 km/h as well as 1.26-tonne payload (with a double cab), or 1.37-tonnes with a basic cab.
As an alternative to a loading area with a capacity of 2.5 m2 (double cab) or 3.57 m2 (basic cab), the chassis can be modified in accordance with customer requirements for a variety of different missions.
Moreover, as a systems integrator, RMMV can draw on numerous subsystems and components from Rheinmetall's extensive portfolio of products as well as other customer-specific equipment kits, enabling it to transform the Amarok M into a communications and/or command vehicle, a military police patrol vehicle, etc.
Designed with special operations in mind, the Amarok M on display at Eurosatory 2012 is equipped with an electrically powered ring-mount for a medium or heavy machine gun or automatic grenade launcher.
Rheinmetall
12.06.2012

Share...





Rheinmetall MAN Survivor R special protected vehicle on show at GPEC 2020 international security exhibition in Frankfurt/Main
24.02.2020
Rheinmetall books ˆ110 million-contract to extend the service life of the Marder infantry fighting vehicle for the Bundeswehr
21.01.2020
Rheinmetall to Feature Next Generation 130mm Tank Gun at AUSA Global
04.11.2019
Rheinmetall Presents Next Gen "Wiesel Wingman" solution for Robotic Combat Vehicle – Light at AUSA 2019
04.11.2019
Rheinmetall MAN Military Vehicles GmbH - RMMV
Rheinmetall Verseidag Ballistic Protection GmbH
Rheinmetall Soldier Electronics GmbH
Rheinmetall AG, Representative Office Abu Dhabi
Rheinmetall Waffe Munition GmbH
Rheinmetall Defence Electronics GmbH
Rheinmetall Waffe Munition Arges GmbH
American Rheinmetall Munitions, Inc. - ARM
Rheinmetall Denel Munition (Pty) Ltd - RDM
Amarok (Remote controlled weapon station)
Discuss