BTR-4E: Ukraine Takes Leading Positions in Modern Light Armor Vehicles Market
Category: Defence Industry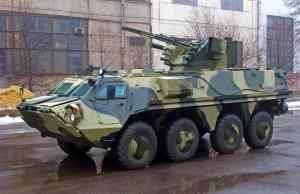 KYIV, Ukraine -- The Ukrainian Armed Forces have put into service the modern Ukrainian armored personnel carrier BTR-4E under the Order of the Ukrainian Defense Minister Dmytro Salamatin.
Kharkiv Morozov Machine Building Design Bureau in cooperation with national defense enterprises has designed and manufactured BTR-4E.
The Ukrainian Armed Forces got a new up-to-date weapon system technically comparable with its foreign analogues, while its fire potential is even better.
Mass production of this vehicle will help Ukraine to take the leading positions in the world market of light armor wheeled vehicles.
"Our national designers and Ministry of Defense specialists did a lot of job. We have developed a completely new system, breaking classical traditions of tank building. It's a basis for future development of different modifications of this armament," Andriy Artyushenko, Director of Department of Development and Acquisition of Armament and Military Equipment, commented.
He mentioned that BTR-4E armament included 30-mm automatic gun ZTM-1, antitank missile, grenade launcher KBA-117, machine-gun, and other armament manufactured by Ukrainian enterprises. This armament is integrated in a single system of fire control.
"This vehicle proves capabilities of Ukraine to be a manufacturer of high technological and knowledge-based product and ensures possibility to activate defense industries, as well as create additional employment," Dmytro Salamatin said.
According to the Ukrainian Defense Minister, thanks to BTR-4E Ukraine shall not import these vehicles and even may export them to world markets augmenting the state budget.
Ukrainian MOD
25.07.2012

Share...





Robotic Warfare Systems Will Bring Disruption to the Battlefield, Milrem Robotics' Study Finds
25.04.2019
Bumar Labedy represents the PT-17 MBT on the MSPO 2017
07.09.2017
AM General Secures Additional $57 M In HMMWV Vehicle And Parts Sales
01.03.2016
AM General Secures 6-Year, $428.3 M To Provide The Army With M997A3 HMMWV Configured Ambulances
10.09.2015
Ministry of Defence of Ukraine
Central office on military and technical cooperation of MoD of Ukraine
SLOVSEL s.r.o. Ukraine representative
PARALLAKS Ukraine-Russia Joint Scientific Industrial Enterprise
Discuss